×
Sign up for my free weekly newsletter!
For meal plans, cooking tips and new recipes...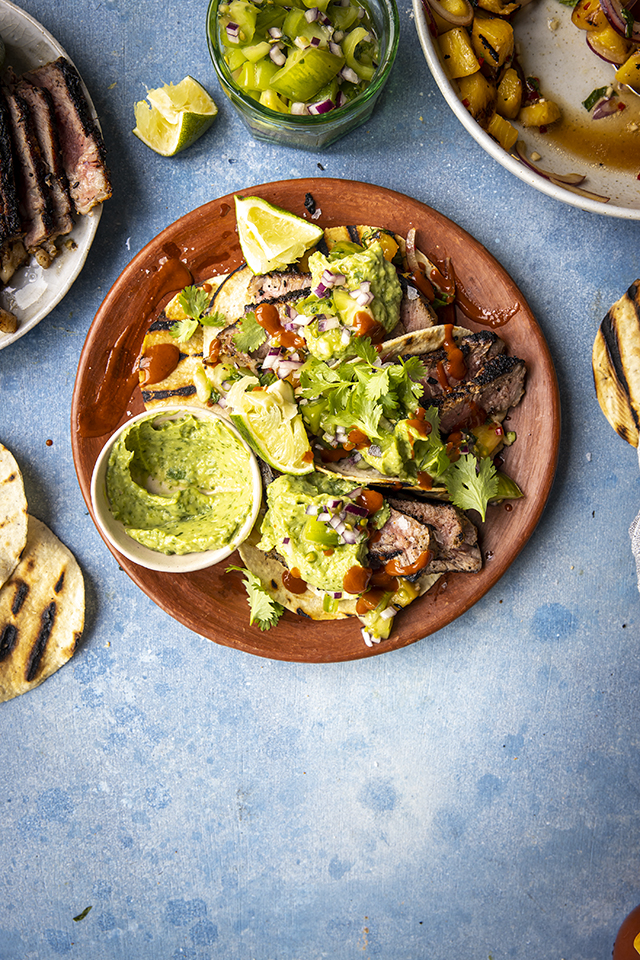 Carne Asada Tacos
July 15
Carne Asada is one of the most common and popular tacos you can order from taco trucks. Grilled and seared meat marinated in spices with plenty of garlic, salt and lime to bring the flavour. A perfect recipe for your next BBQ dinner.
10
Serves 4
Method
In a dish, mix the garlic, oil, half the lime and spices. Finely chop half the coriander and stir into the dish then season well. Add the steaks to the marinade and sit whilst you make the guac and salsa, turning occasionally.
In a small bowl, mix the red onion with the tomatoes, rest of the lime, coriander leaves and some sea salt and set aside.
Heat a griddle pan over a high heat until smoking. Remove the steaks from the marinade, pat dry and drizzle with oil. Sear for 1-2 minutes each side until charred but still rare inside. Set aside to rest for 5 minutes.
Slice the steak and serve in the warm tortillas with the tomato and red onion salsa, the taco shop guacamole and the pineapple salsa.
If you make this recipe, be sure to tag your photo
#DonalSkehan