×
Sign up for my free weekly newsletter!
For meal plans, cooking tips and new recipes...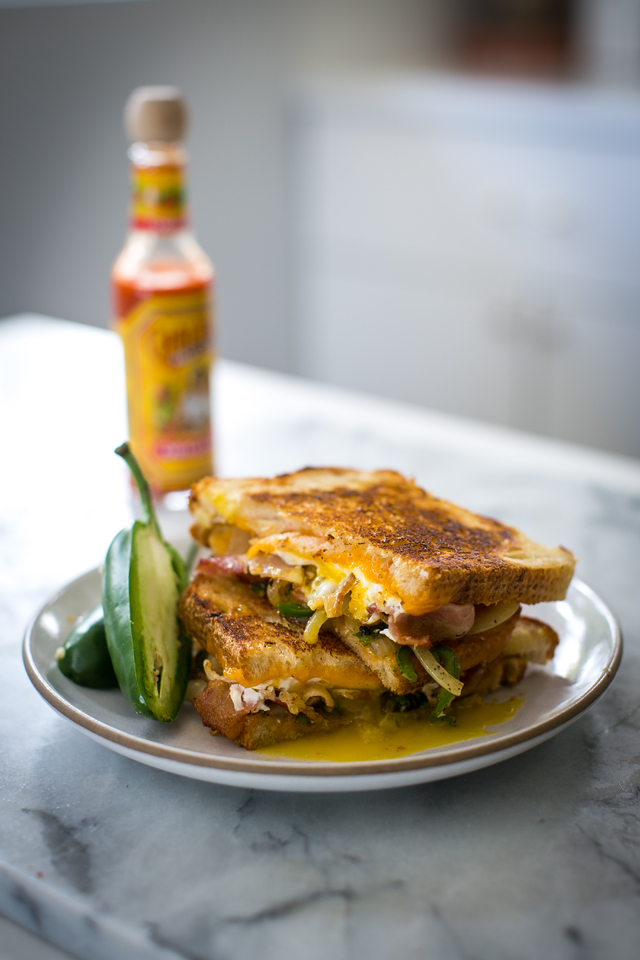 Danger Dog Grilled Cheese Sandwich
May 19
Grilled cheese just went up a level! Check out The Kitchy Kitchen for more of Claire's amazing recipes…You'll want to make everything!
Method
In a saucepan over medium low heat, cook the bacon, flipping often. After a minute, add the onion and jalapeno. Cook everything together, still flipping the bacon often, for about 5 minutes, or until the bacon is about 3/4 crisp.
Push the onions and jalapenos to the side, and crack an egg over the bacon. Season with salt and pepper, and cover, cooking for about 4 minutes, of until the egg white is set. If you're getting impatient or your bacon is getting too crisp, just flip the egg and cook for a moment. Set the cooked egg and bacon on a plate, along with the onions and jalapeno.
If there's a lot of bacon fat in the pan, pour it off, but don't wash the pan.
Place two pieces of cheese on one slice of bread and press the other slice of bread onto it. With a knife, butter the bread. Heat the pan over a medium flame, and press the sandwich on, buttered side down. Press until the bread is golden brown and the cheese has started to melt.
Butter the other side of the sandwich (which is facing up) and flip.
Cook until golden brown and the cheese is gooey (this should all take about 3-4 minutes). Open the sandwich, top with the fried egg and bacon, and the onions and jalapeno. Slice and enjoy!
Ingredients
2 slices bacon
1/8 onion, thinly sliced
1/2 jalapeno, sliced
1 tbsp unsalted butter
2 slices sourdough bread
2 slices cheddar
1 egg
2 slices bacon
1/8 onion, thinly sliced
1/2 jalapeno, sliced
1 tbsp unsalted butter
2 slices sourdough bread
2 slices cheddar
1 egg
You'll Need
If you make this recipe, be sure to tag your photo
#DonalSkehan