×
Sign up for my free weekly newsletter!
For meal plans, cooking tips and new recipes...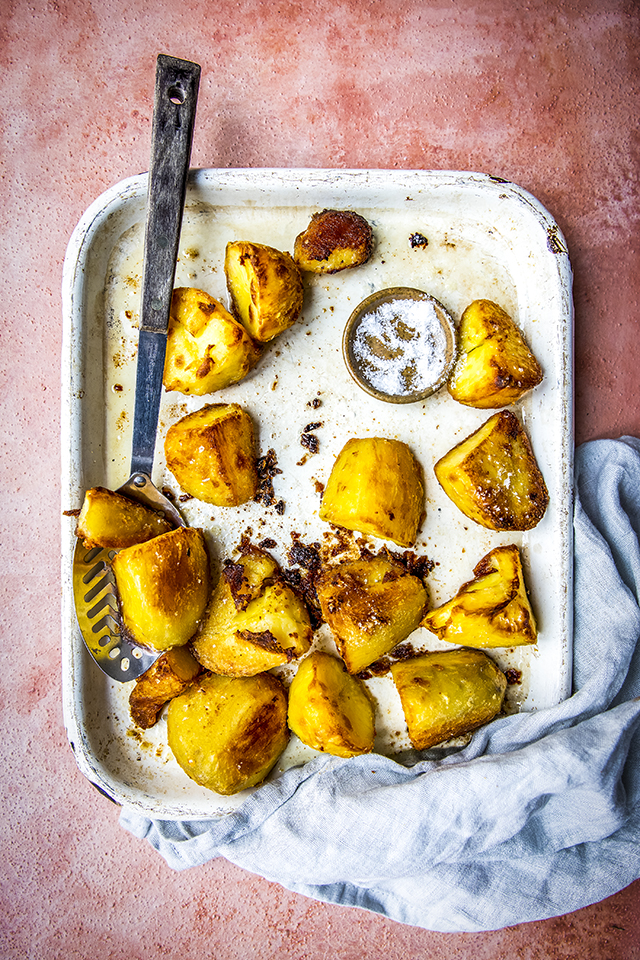 My Mum's Really Good Roast Spud Recipe
June 29
Tracking this recipe down from my mum was like cracking the KGB, unanswered emails and phone calls that got promptly hung up. Persistence was key and ultimately she folded so I present to you my mum's really good roast spud recipe. There's no hot duck or goose fat to contend with instead it's all pretty simple. Par boiling and chuffing the warm potatoes in the pot once the water is drained results in crispy crunchy exteriors and velvety interiors.
40mins
Serves 4
Method
Preheat the oven to 220°C/425°F/Gas Mark 7.
Bring a large pot of salted water to the boil. Add the potatoes and allow to simmer for 3-4 minutes until par cooked. Drain the potatoes and place back in the pot. Place kitchen paper directly on top to soak any excess moisture, cover with a lid and allow to cool for 5-10 mins.
Remove the kitchen paper and give the pot a shake with the lid on to chuff up the outsides and make the spuds fluffy.
Place on a large baking tray, leaving space between each potato and drizzle generously all over with rapeseed oil until completely coated.
Season generously with sea salt and place in the oven for 35 minutes until golden and crispy (every oven is different so really the timing is down to your judgement so make sure they are super crispy before you take them out).
If you make this recipe, be sure to tag your photo
#DonalSkehan