×
Sign up for my free weekly newsletter!
For meal plans, cooking tips and new recipes...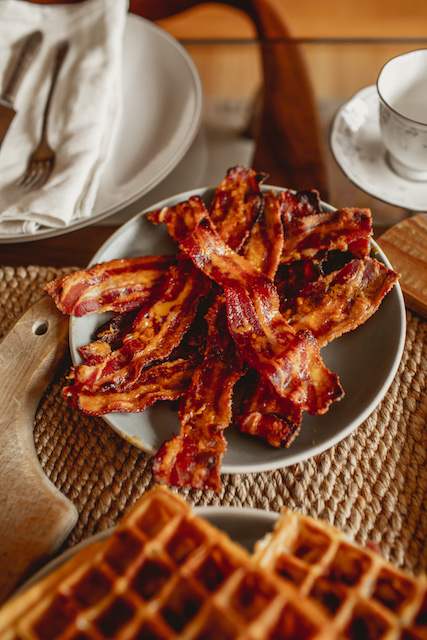 Pig Candy
April 17
What could possibly be better than candy made of pig? Bacon to be precise. Smokey, salty, spicy, sweet: yes please! And the best part is that it is ridiculously easy to make. In 30 minutes you'll have a bowl of kitsch bar snacks that are just as delicious with a rich red wine as they are with a spicy ale or sweet and smokey stout. The possibilities are endless and so is my appetite for these little pieces of heaven.
Recipe courtesy of Claire Thomas from the Kitchy Kitchen!
Method
Preheat the oven to 325 degrees. Meanwhile, blend the sugar and pepper together in a bowl. Taste it. If it's too spicy, add more sugar, not spicy enough, add more cayenne. However, the spice does become a little more pronounced after being cooked, so be aware of that.
Lay the bacon on a cooling rack placed over a baking pan lined with aluminum foil (these means minimal clean up!). Cover each slice of bacon with the brown sugar mixture. It should be an even layer, thick enough so that you cannot see the bacon through it (about 1/8 or ¼ of an inch). Place the bacon in the oven for about 20 minutes, or until the sugar is completely browned, and the bacon has curls at the edges and appears mostly cooked.
Remove the bacon from the oven and flip. Cover the bacon with the rest of the brown sugar mixture, and pop back in the oven for another 15 minutes, or until the bacon appears how you like it, like crunchy, but not burnt. If the bacon seems underdone, just leave in the oven for a minute or two more.
Let the bacon cool on the rack for at least 15 minutes to let the sugar harden a bit before you start cutting the pieces. I find it's easiest to use a pair of kitchen scissors and cut the pieces over the serving bowl.
If you make this recipe, be sure to tag your photo
#DonalSkehan