×
Sign up for my free weekly newsletter!
For meal plans, cooking tips and new recipes...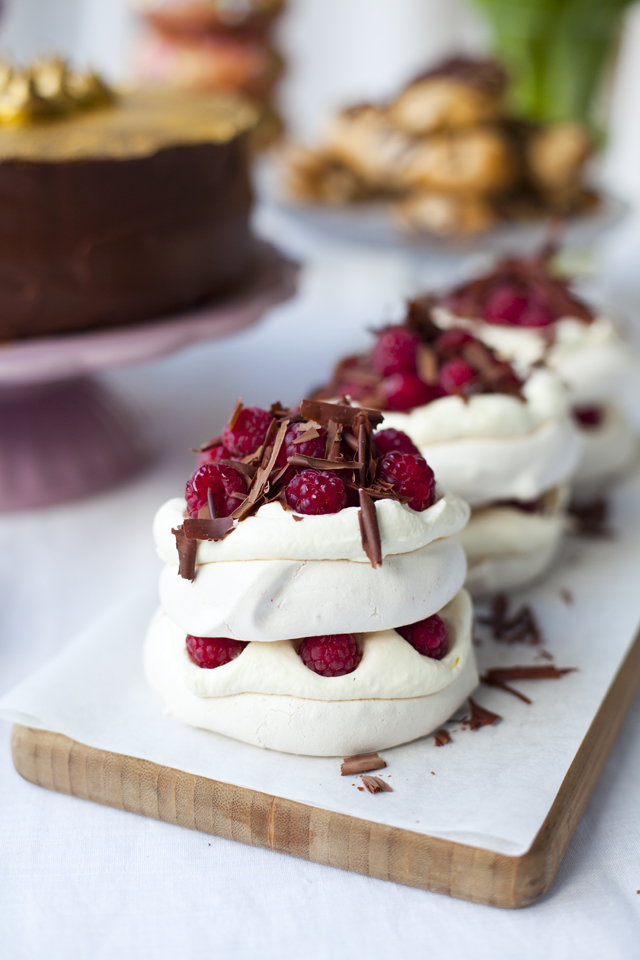 Raspberry and Dark Chocolate Mini Pavlova Stacks
April 09
Meringue has to be one of my favourite baking recipes to make in the kitchen. With beautiful stiff, sweet white peaks how could you resist! The addition of cornflour and white wine vinegar here results in a wonderfully chewy marshmallow centre a crisp exterior.
60 mins
Serves 8
Method
Preheat the oven to 150˚C/300°F/Gas Mark 2. Line two baking trays with baking parchment.
Place the icing sugar and egg whites in a standing food mixer and whisk on high for 10 minutes until glossy white peaks form. Using a spatula, gently fold in the cornflour and the white wine vinegar.
Spoon 16 tablespoons of the meringue mixture between the two baking trays and using a mini offset spatula spread and flatten to form the mini meringue discs.
Bake for 45 minutes, then turn off the oven and leave the door ajar and allow to cool in the oven completely.
Assemble the mini pavlovas, by spooning a tablespoon of the double cream on to 8 of the meringue discs. Top with a few raspberries and top with another meringue layer, then another spoonful of cream and some berries then chocolate shavings. Repeat with the remaining discs. Serve straight away.
If you make this recipe, be sure to tag your photo
#DonalSkehan