×
Sign up for my free weekly newsletter!
For meal plans, cooking tips and new recipes...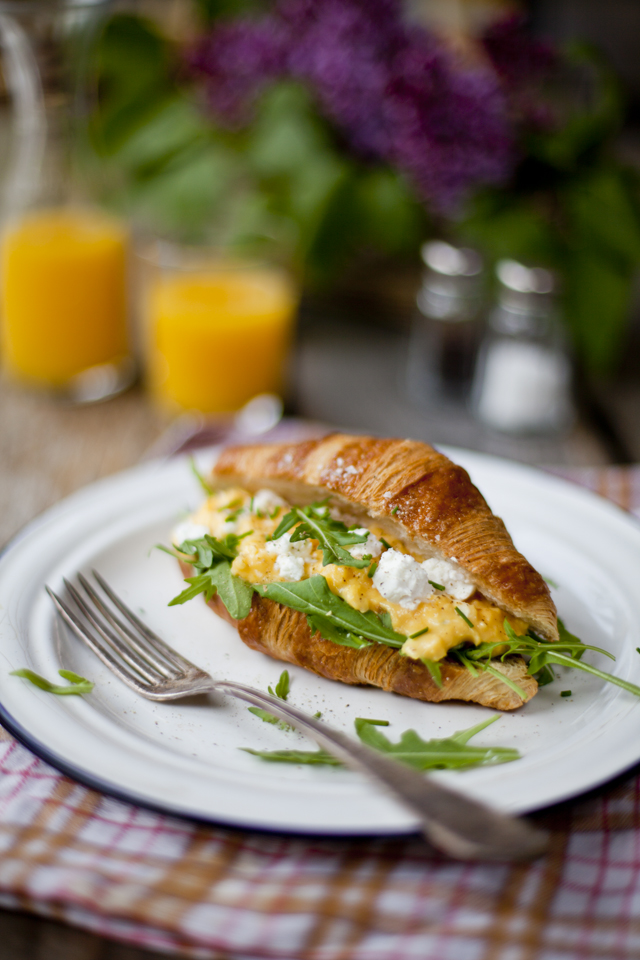 Scrambled Eggs with Goat's Cheese and Rocket
May 12
A recent trip to NYC provided me with the inspiration for this little  beauty of a breakfast.  We snaffled one of these in an organic  restaurant just below the Brooklyn Bridge,  sitting elbow to elbow with a crowd of skinny-jeaned espresso drinkers.  My everyday breakfast tends to be scrambled eggs, so I was happy to try  something a little different.  Although not exactly  groundbreaking, the simple addition of rocket and goat's cheese makes  these eggs served on a croissant a fantastic lazy breakfast treat.
Method
Slice open the croissants and fill with a generous amount of rocket leaves. Set aside.

In a small non-stick saucepan with a handle, whisk the eggs together until combined. Place the saucepan over a medium-low heat and, using a wooden spoon, slowly pull the eggs towards the centre. Keep the mixture moving until you have really creamy scrambled eggs. Make sure not to overcook the eggs -- take them off the heat while they are still slightly runny and creamy.
Season with sea salt and black pepper and stir through the butter and goat's cheese. Serve in the open croissants with an extra sprinkle of black pepper and a few snips of chives.
If you make this recipe, be sure to tag your photo
#DonalSkehan