×
Sign up for my free weekly newsletter!
For meal plans, cooking tips and new recipes...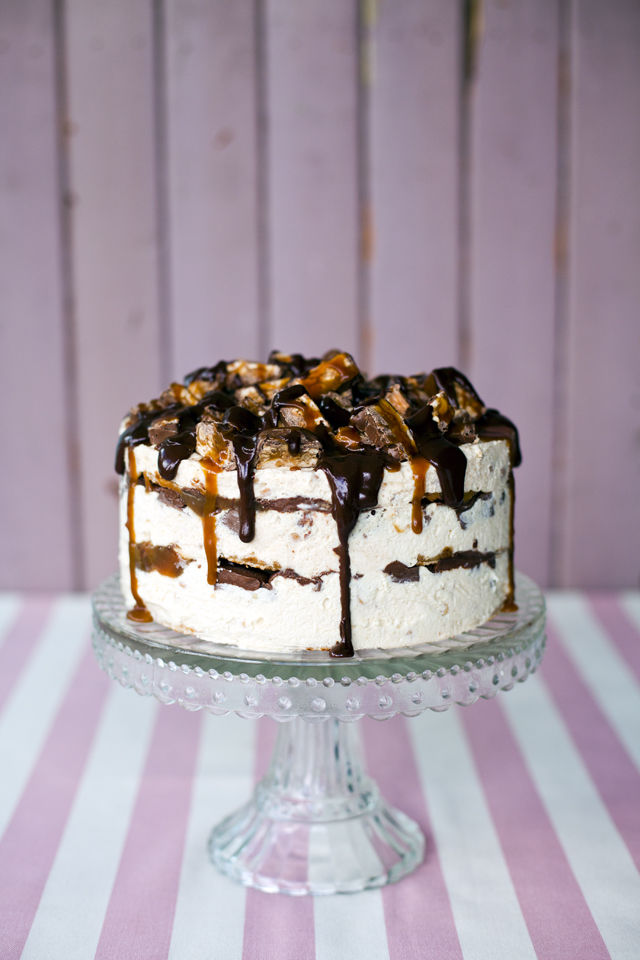 Snickers Ice-Cream Cake
June 30
This treat mountain is very simple to make, as once you have your sauces and no-churn ice-cream prepared, it's just a matter of assembly. Allow enough time for it to freeze properly before serving. If you can't find peanut butter ice cream in the shops, then it really is worth making your own and isn't as tricky as you may think. (Recipe from Sharon Hearne Smith's, No Bake Baking available on amazon.)
15 mins + freezing time
Serves 12
Method
Remove the ice cream from the freezer and leave to soften until spreadable but not completely thawed. Oil the cake tin and line the sides with parchment paper. Cut the Snickers bars into 5mm-thick slices and roughly chop the waffle biscuits into small bite-sized pieces.
Scatter a third of the waffle pieces in a single layer in the bottom of the tin. Spoon a third of the ice cream on top and spread evenly. Scatter on a third of the Snickers pieces in a single layer. Drizzle with a third of each of the caramel and chocolate sauces.
Repeat these layers again, using the same quantities of everything. Then scatter with the remaining waffle pieces and finish with the remaining ice cream, smoothing the top.
You should have a third each of Snickers pieces and caramel and chocolate sauces left for serving. Cover with cling film and freeze for at least 8 hours or overnight until frozen solid.
When ready to serve, remove the cake from the tin and sit it on a cake stand or serving plate. Peel off the parchment paper and leave for 15–20 minutes to soften a little.
Then, to decorate, arrange the remaining Snickers pieces on top and spoon over the caramel and chocolate sauces so they just dribble down the edges. To serve, cut into 12–14 wedges, which is best done with a long sharp knife, dipped in boiling water and wiped dry between each cut.
Leftover ice-cream cake should be frozen straight away. Wrap individual portions in parchment paper and seal in a food bag. These will keep happily in the freezer for up to a few months.
If you make this recipe, be sure to tag your photo
#DonalSkehan