×
Sign up for my free weekly newsletter!
For meal plans, cooking tips and new recipes...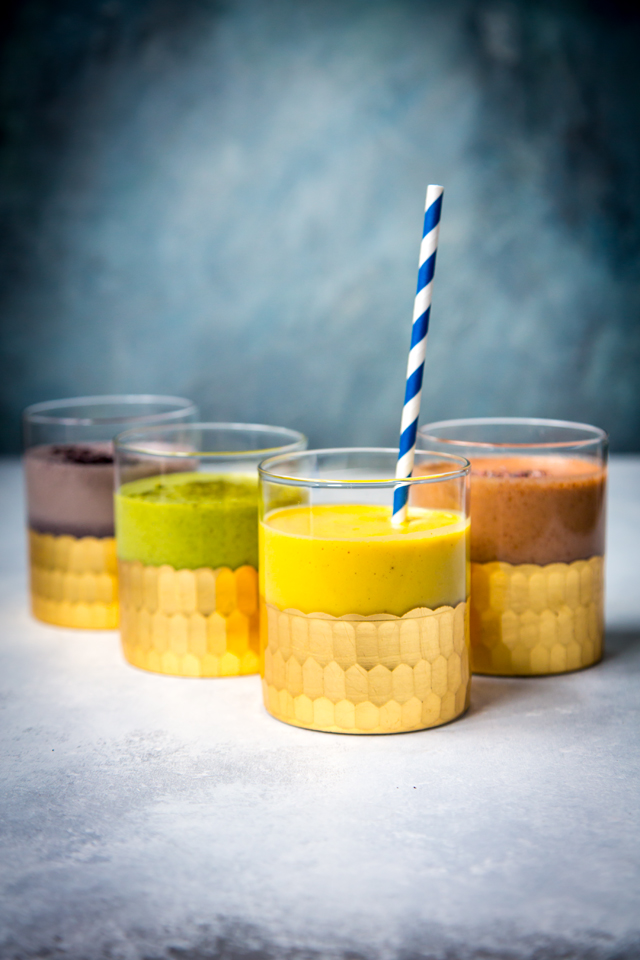 Best 4 Breakfast Protein Smoothies
February 17
These 4 fantastic breakfast smoothies taste amazing, take minutes to make & are created with the help of a professional personal trainer to help with weight loss!
Instructions: For each smoothie recipe, put all ingredients into a blender, whiz up and enjoy!
Method
Chocolate Kickstart Smoothie:
- 250 ml / 8 oz almond milk (or soy, coconut, regular milk)
- 50 g / 2 oz frozen banana
- 5 g / 1 tsp cacao nibs
- 30 g / 1 oz protein powder (hemp, whey, vegan)
- 15 g / 1 tbsp peanut butter
- 1 shot espresso or one tsp instant coffee powder
Liquid Sunshine Smoothie:
- 250 ml / 8 oz coconut milk (or soy, almond, regular milk)
- 50 g / 2 oz frozen banana
- 50 g / 2 oz frozen mango
- 30 g / 1 oz protein powder (hemp, whey, vegan)
- 1 tsp cardamom
- 5 g / 1 tsp fresh turmeric
- 10 g / 2 tsp coconut oil
Super Green Smoothie:
- 250 ml / 8 oz almond milk (or soy, coconut, regular milk)
- 30 g / 1 oz hemp protein (or whey/vegan protein)
- 15 g / 0.5 oz spinach
- 2 tsp spirulina/chlorella
- 80 g / 3 oz mango
- 40 g / 1.75 oz avocado
Perfect Purple Smoothie:
- 250 ml / 8 oz almond milk (or soy, coconut, regular milk)
- 50 g / 2 oz frozen acai (or one serving acai powder)
- 100 g / 4 oz blueberries
- 30 g / 1 oz protein powder (hemp, whey or vegan protein)
- 10 g / 2 tsp white cashew/almond butter
- 13 g / 0.5 oz purple kale

If you make this recipe, be sure to tag your photo
#DonalSkehan