×
Sign up for my free weekly newsletter!
For meal plans, cooking tips and new recipes...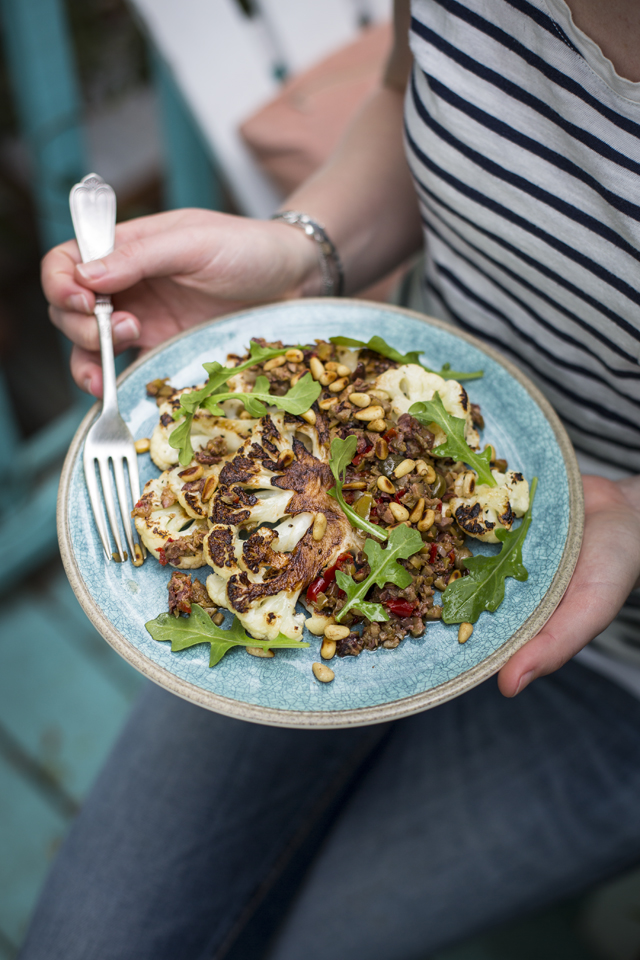 Cauliflower T-Bone Steak
March 29
Cauliflower is having a moment, not only are the health food gurus singing it's nutritional praises, but those in the know are steering clear of the boiled anemic cooking methods of the past. Instead this brassica is brought to life being grilled or roasted for ultimate satisfaction. Although I am adverse to the idea that eating a vegetarian meal should require faux meats, this recipe title is an appropriate name for the T shaped slices you get from a head of cauliflower. Pan fried or roasted in the oven, this makes a simple and delicious dish from a humble vegetable. For an extra touch of texture and flavor, crumble feta cheese over the top before serving.
15 mins
Serves 2
Method
Remove and discard any leaves from the cauliflower and carefully slice 3cm steaks from the head. You will get left with 2-4 steaks from each head of cauliflower.
Place a large pan over a high heat and add the olive oil.
Sear the cauliflower in batches for 3-4 minutes either side, turning when the have a rich golden color. Before removing from the pan add a splash of lemon juice and season with sea salt and ground black pepper.
Assemble on serving plates garnished with olive tapenade, pine nuts and rocket leaves. Enjoy while warm.
If you make this recipe, be sure to tag your photo
#DonalSkehan