×
Sign up for my free weekly newsletter!
For meal plans, cooking tips and new recipes...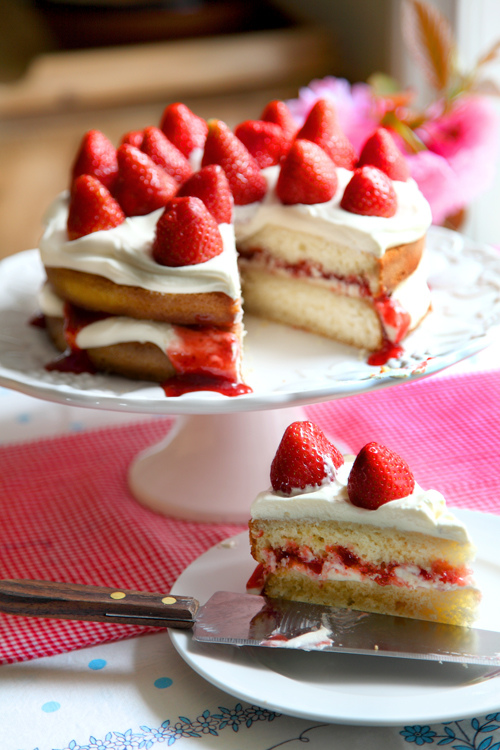 Mega Strawberry Summer Cake
June 16
Strawberries really should be celebrated with over the top desserts and if you want to look beyond the simplicity and utter deliciousness of strawberries and cream then this is the cake for you! When you are assembling the layers of cake make sure you give it an extra little squeeze to ensure those mouth watering dribbles of jam down the sides.
50 mins
Serves 8
Method
Preheat the oven to 180°C/350°F/Gas 4 and grease and line two x 8 inch spring form baking tins.
Using a handheld electric mixer, beat the sugar and eggs in a large mixing bowl until pale and fluffy.


Mix the milk, melted butter and vanilla extract together in a measuring jug and pour into the sugar and egg. Mix through to combine.
Sieve the flour and baking powder into the bowl and then using a spatula, gently fold in to the cake mix until completely smooth and combined.
Divide the mix evenly between the two baking tins and place in the oven for 25 minutes or until a skewer inserted into the centre of the cake comes out clean. Allow the cake to cool slightly before turning out onto a wire rack to cool completely.


When both cake layers are completely cooled, whip the cream until soft peaks form. Sieve the jam into a bowl to ensure it is really smooth.

TOP TIP

If the cake layers have a peak in the middle make sure to slice it off so you are left with perfectly flat layers.
Place one layer on a cake stand and dollop with half the cream, spread evenly and then drizzle with the smooth strawberry jam. Carefully place the second cake layer on top and add the remaining whipped cream and strawberries.
If you make this recipe, be sure to tag your photo
#DonalSkehan