×
Sign up for my free weekly newsletter!
For meal plans, cooking tips and new recipes...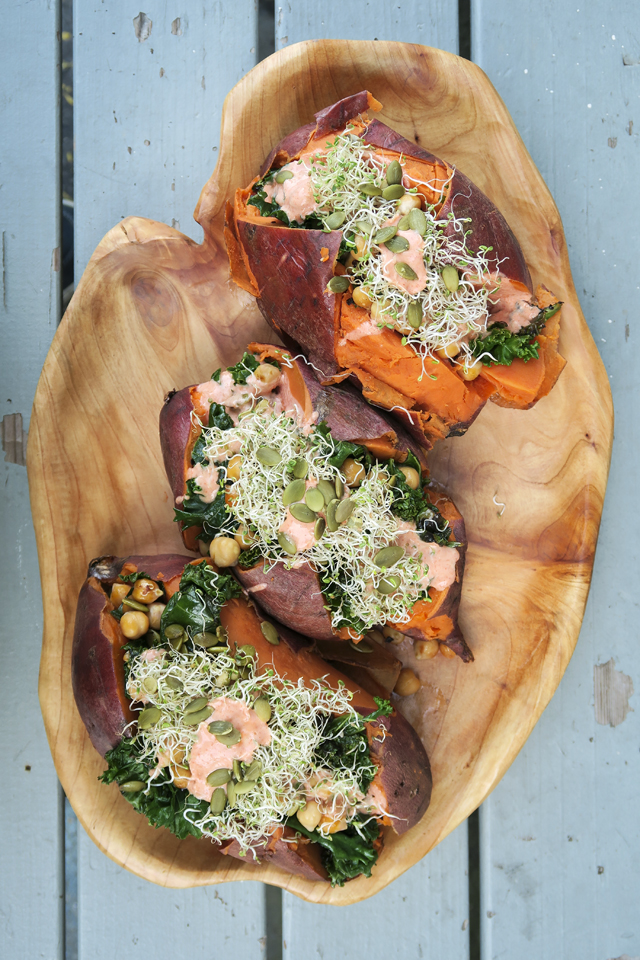 Superseed Roast Sweet Potato
January 19
My go-to healthy eating saviour when there is very little in the house is a roast sweet potato. Although not exactly fast food, it's worth the wait! You can fill them with whatever you fancy but I find myself making this variation all the time.
Method
Preheat the oven to 200°C/400°F/Gas Mark 6. Place the potatoes on a baking tray and drizzle with about a tablespoon of rapeseed oil. Bake in the oven for 45 minutes, or until tender when pierced with a fork.
Meanwhile, heat the remaining rapeseed oil in a large frying pan over a medium-high heat. Add the kale and fry for 3 – 4 minutes, until wilted and tender.
Mix the yoghurt and sriracha sauce together and set aside.
Stir through the garlic and chilli flakes, and season. Slice open the baked sweet potatoes. Top with the kale, a dollop of the yoghurt mix, a sprinkle of seeds, chickpeas and some alfalfa sprouts.
Ingredients
4 large sweet potatoes
1 1⁄2 tbsp rapeseed oil
3 cups kale, leaves torn from the stem
1 garlic clove, finely minced
1⁄2 tsp chilli flakes
1 tbsp pumpkin or sunflower seeds, toasted
Small handful of alfalfa sprouts (approx 1 1/2 cups)
1 cup of chickpeas
Sea salt and freshly ground black pepper
8 tbsp natural probiotic yoghurt
1 tbsp sriracha sauce
4 large sweet potatoes (approx 500g)
1 1⁄2 tbsp rapeseed oil
200g kale, leaves torn from the stem
1 garlic clove, finely minced
1⁄2 tsp chilli flakes
1 tbsp pumpkin or sunflower seeds, toasted
Small handful of alfalfa sprouts (approx 50g)
200g chickpeas
Sea salt and freshly ground black pepper
8 tbsp natural probiotic yoghurt
1 tbsp sriracha sauce
You'll Need
Baking tray
Large frying pan
If you make this recipe, be sure to tag your photo
#DonalSkehan