Cold Day Comfort
February 06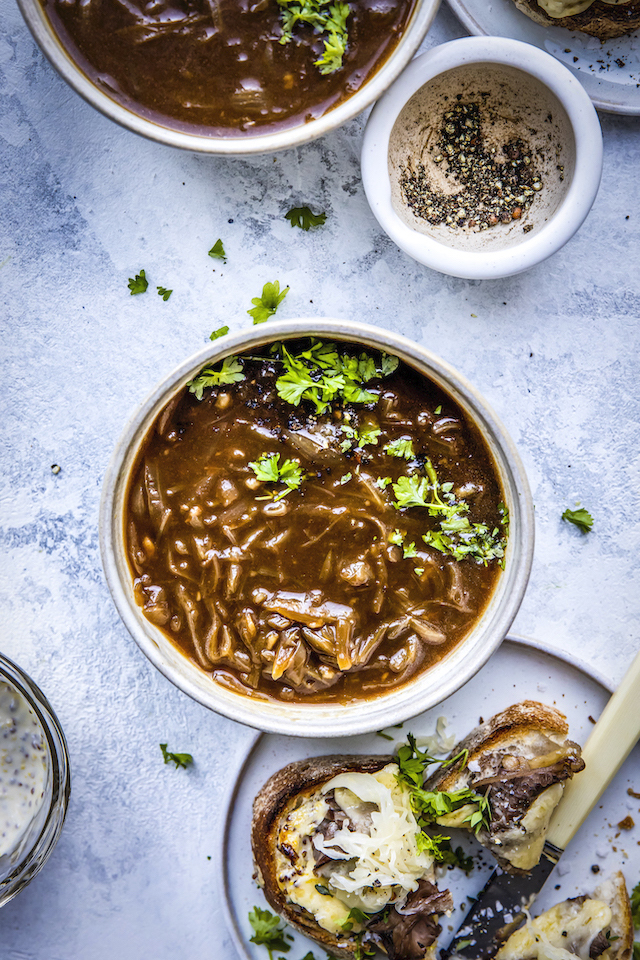 If the weather is getting you down, today's recipe lineup is all about comfort during these cold months. For far too long the French have been laying claim to onion soup and it's high time we give it an Irish twist. At the risk of falling into that old Irish stereotype, I've done just that by adding some booze in the form of Irish stout for my take on this classic soup which gives it even more depth and richness.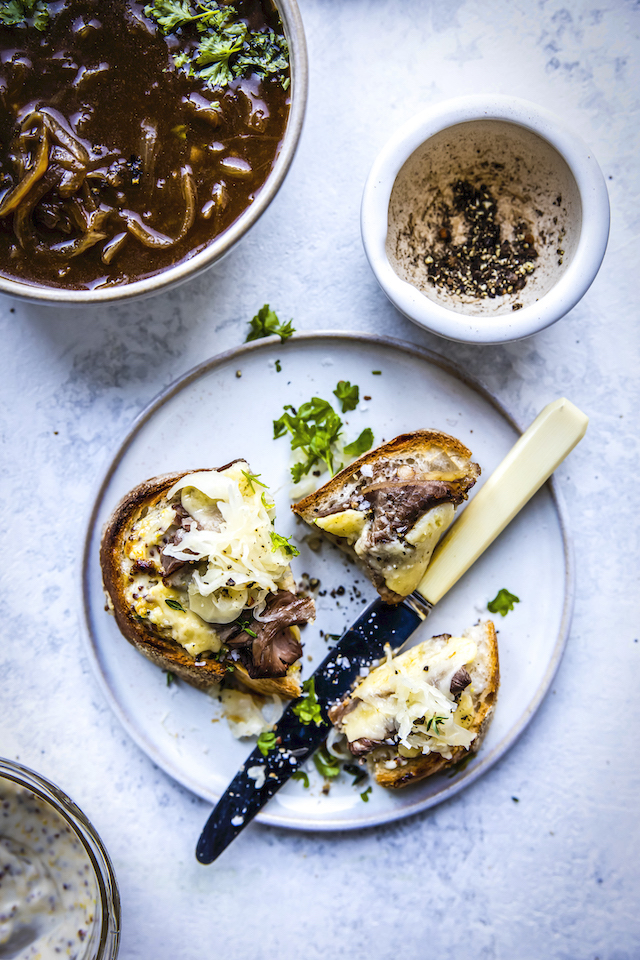 While Sofie was pregnant with our second son Oliver, we got into the weekly habit of visiting a great German butcher nearby the doctor's office here in LA which conveniently has a Swedish bakery next door, making it the perfect spot for some coffee and cake to mull over the impending arrival. After a fix of cardamom scented cinnamon buns and a slice of Swedish princess cake at Berolina Bakery I would wander next door to Schreiners to pick up some meat for the week. They do great smoked meats and in particular smoked BBQ tri-tip and brisket. There's an old world feel here, the shelves are stacked with jars of sauerkraut, pickles and German beer and the 70 year old lady behind the counter with the German accent offers our son Noah a slice of baloney without fail every time we visit.
It's been the source for a lot of our winter comfort food dishes and the reason my French/Irish onion soup randomly also has a German mashup in the form of a reuben cheese toastie on the side with roast beef slices and sauerkraut in place of the classic cheese croutons that sit in the soup. Either way the combination of rich onion soup and a melting cheese toastie is my current comfort food fix and well worth sharing.
Like most Irish homes this time of year, stew is a firm fixture on our weekly meal plans and the one I come back to time and time again is our family's version of an Irish stew. Known fondly as Angie's Skehan family Irish stew in our house, the Angie I refer to in the title of the recipe took care of my dad and his four brothers and sister when they were growing up and subsequently the next generation after them too. She was a lady who knew how to feed a crowd and this recipe brings back great memories every time I make it. To mop up all the juices, you will definitely improve on the white sliced pan with some warm cheese laden dinner rolls that get their lightness and airiness from a little leftover mashed potato which is a game-changer. Simple recipes, great flavour and total comfort- enjoy!
Follow these links for the recipes in the photos:
Irish Onion Soup With Reuben Cheese Toasties
Angie's Skehan Family Irish Stew
Share