Spiced Pear & Yogurt Loaf
October 27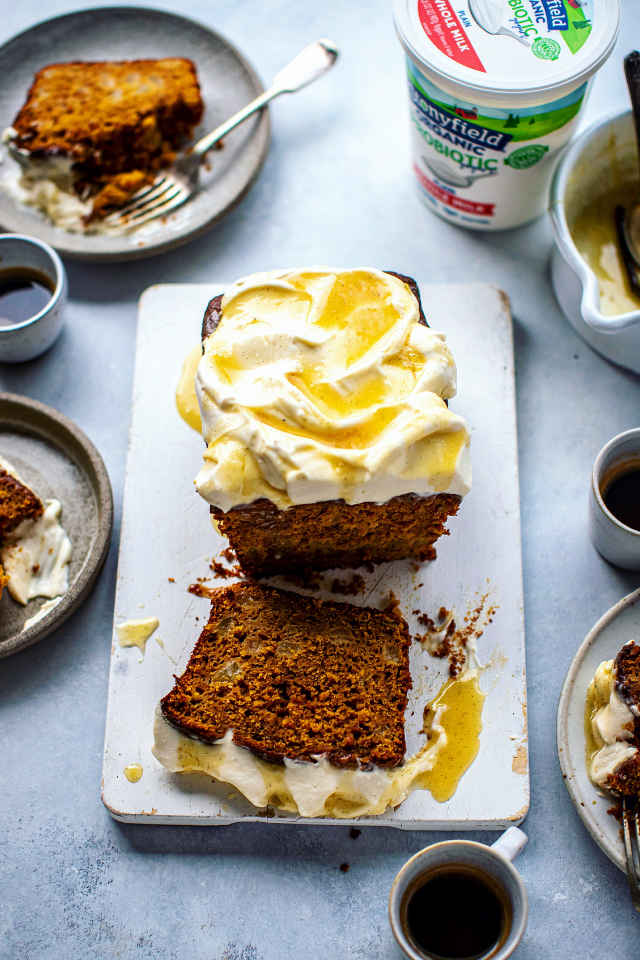 I'm delighted to be teaming up with Stonyfield Organic to bring you this delicious Spiced Pear and Yogurt Loaf recipe. Last month I attended their virtual farm tour, which Noah & I thoroughly enjoyed, as we got to really understand the stories of the farmers & families behind the ingredient. Stonyfield source their yogurt from organic family farms and it was just brilliant to meet the people behind the product.
As per their slogan, Stonyfield are 'obsessively organic'. The organic farmers who provide them with milk for their yogurts don't treat their cows with artificial hormones or antibiotics. Instead, they keep their cows healthy and productive by providing them with the best living conditions and low-stress lives. On many non-organic farms, cows live in crowded, unsanitary conditions and have few opportunities – all of which makes them more prone to health problems. To maintain herd health under these conditions, farmers will treat cows with a regular regimen of preventative antibiotics. Cows on organic farms, on the other hand, spend at least 120 days per year on pasture, where they graze on nutritious pasture plants, exercise and socialize. When inside, organic cows enjoy clean, dry bedding and appropriate temperatures and breathe well ventilated and circulated air.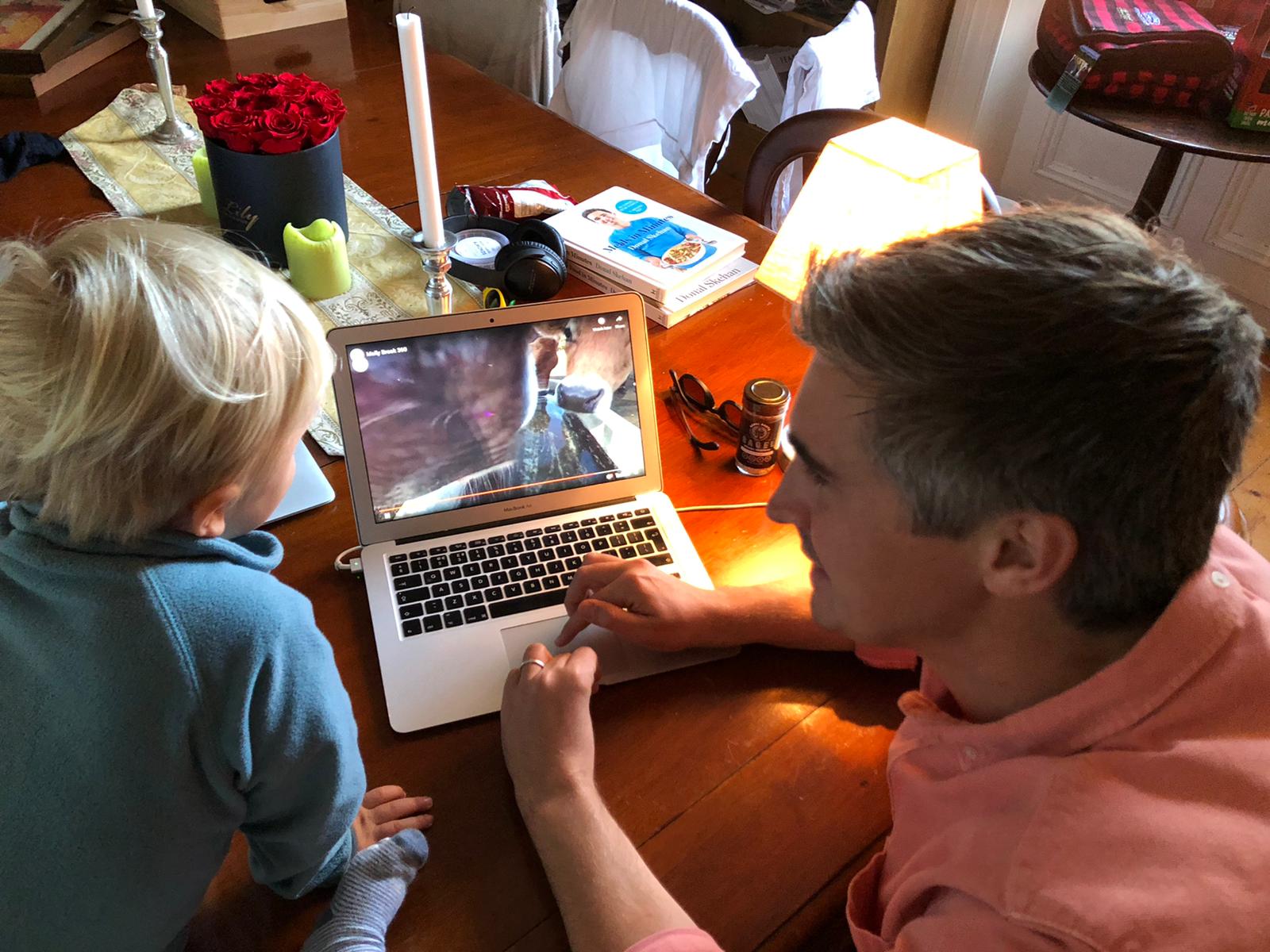 The families who produce this yogurt are huge animal lovers. With organic farming, there is a lot more work and TLC required, but the Stonyfield Organic family farms are dedicated to the organic mission.
Of course, other than having happier cows, another huge benefit to organic practices is the environmental impact. Stonyfield is a certified B Corp company, meaning from the making of the cup, to the production of the yogurt and to how it gets to you, it's all done to meet the highest standards of verified social and environmental performance, public transparency, and legal accountability.
As part of the collaboration, I'm bringing you this warm and comforting, moist winter cake that gets a serious flavour upgrade from cardamom and mixed spice recipe. Yogurt provides great richness to this cake/loaf that is particularly delicious when you fold seasonal fruit like pear or apple through it. Wrap tightly and it will keep for at least a week making it ideal for any visitors that may stop by for a cup of tea!
Recipe:
Makes: 1 x 2lb loaf
Cook time: 50 minutes
For the cake:
⅓ cup/ 50ml sunflower oil
2 medium free range eggs
⅔ cup/ 150ml Stonyfield Organic Yogurt
2 tbsp treacle
2 pears, peeled and diced
2 cups/ 250g self raising flour
1 cup/ 200g light brown sugar
1 tsp mixed spice
6 cardamom pods, seeds crushed
1 tsp baking powder
Pinch sea salt
For the icing:
4.4oz/ 125g Mascarpone
¼ cup/ 50ml Stonyfield Organic Yogurt
2 tbsp maple syrup
For the syrup:
1 vanilla pod
1 cup/ 200g caster sugar
⅔ cup / 150ml water
Preheat the oven to 180°C/350°F/Gas Mark 4. Grease a 2lb loaf tin measuring 8 x 4 x 2 inches (21cm x 11cm x 6cm), line with baking parchment and set aside.

 Whisk together the oil, eggs, yoghurt and treacle  in a jug. 

In a large bowl toss the pears through the remaining cake ingredients. Make a well in the centre, pour the jug contents in and stir to combine. 

Pour into the prepared tin and bake in the oven for 45-50 minutes. Leave to cool in the tin for at least 15 minutes then remove to a wire rack to cool completely. 

Scrape the seeds from the vanilla pod, pop into a pot with the pod and the remaining syrup ingredients. Bring to a boil and simmer for 8-10 minutes over a low to medium heat until it has thickened in it's consistency. It shouldn't crystallise. Allow to cool completely. 

Spread and swirl the icing over the top of the cake, drizzle over the syrup and serve.
*This blog post is sponsored by Stonyfield Organic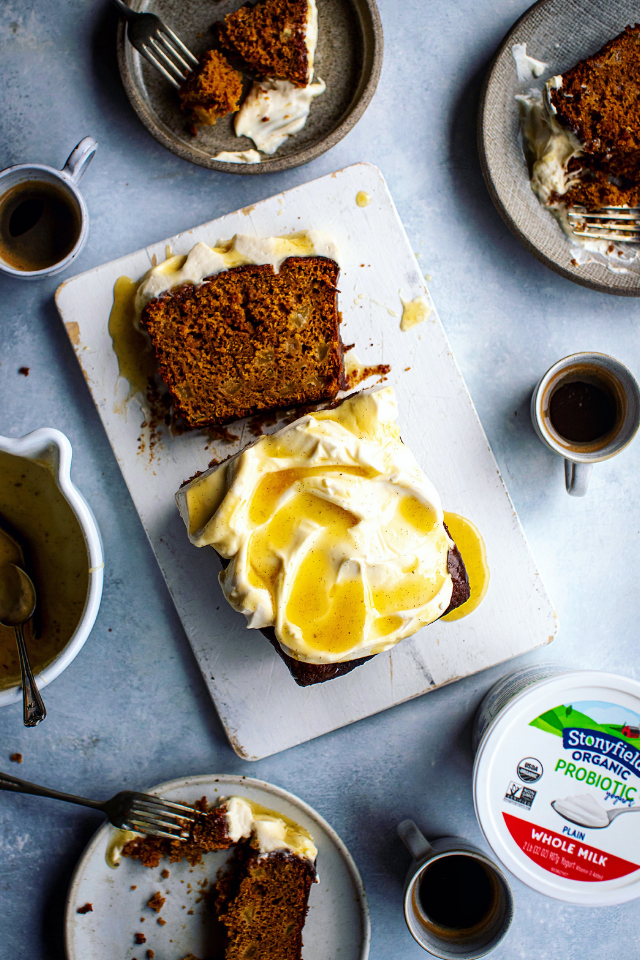 Share