Valentine's Day Steakhouse Night
February 10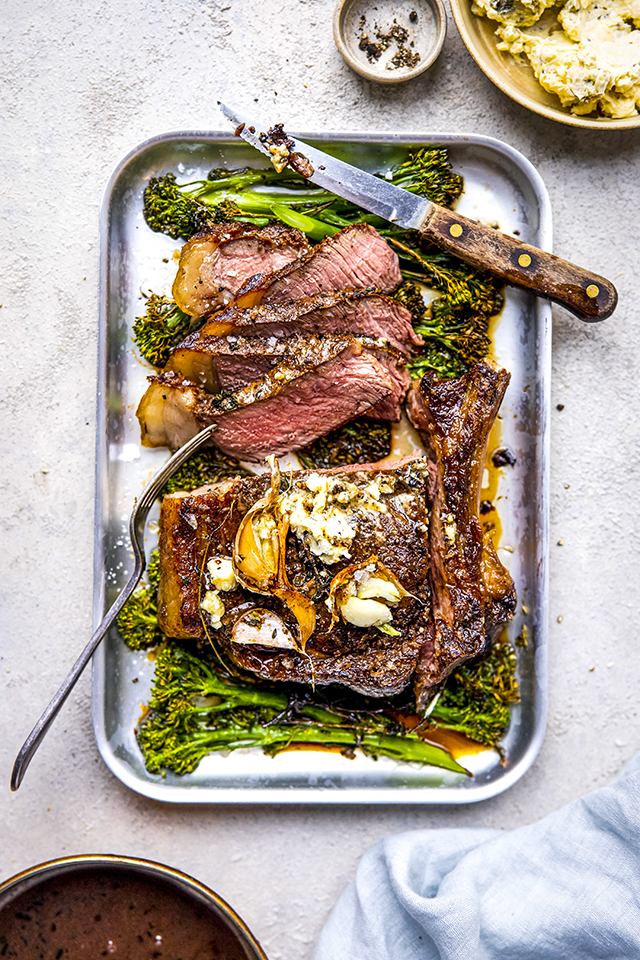 For years myself and my wife Sofie have been utterly terrible at celebrating Valentine's day. We've used all the excuses, we're too busy, it's just a day for schmucks to keep the card companies in business but if I'm truly honest it's just pure laziness- clearly we're true romantics! Recently however we're turning it around and we've been putting in the effort and marking the occasion. The addition of two children under 3 certainly makes us appreciate taking little moments out of the madness as a couple- I have no idea what we did with all that time before kids!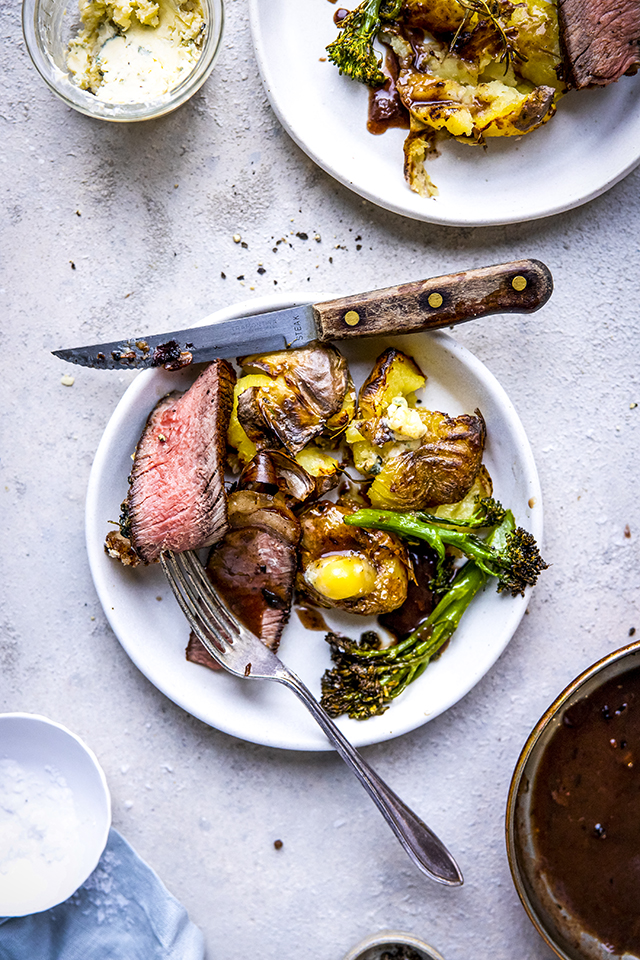 This year we had big dreams of going to Hawaii for a bit of romance but the mere idea of a flight with kids makes me break out in a cold sweat. Next on the list was Palm Springs, the mid century mod desert town famous for being a swinging hot spot for celebs like Frank Sinatra and Elvis Presley in the 50's & 60's. Our favourite little spot in Palm Springs is a great steakhouse called Mr. Lyons which delivers on sleek retro booths, martinis and a menu of classics I can totally imagine the rat pack devouring. It's only two hours in the car from our house in LA but is equally as terrifying as flying so we've chickened out and decided to go all in at home and recreate a steakhouse night for two! I know I said we were making more effort, but something I'm sure most parents learn quickly is how to compromise- the joys! Anyway Palm Springs can wait for now, this menu delivers everything you need for a bit of romance. Homemade steakhouse night would not be complete without a serious bitta' beef, so to give it a slight Irish twist I've provided my recipe for a simply cooked rib eye steak shared between two and slathered in butter with Young Buck Blue cheese.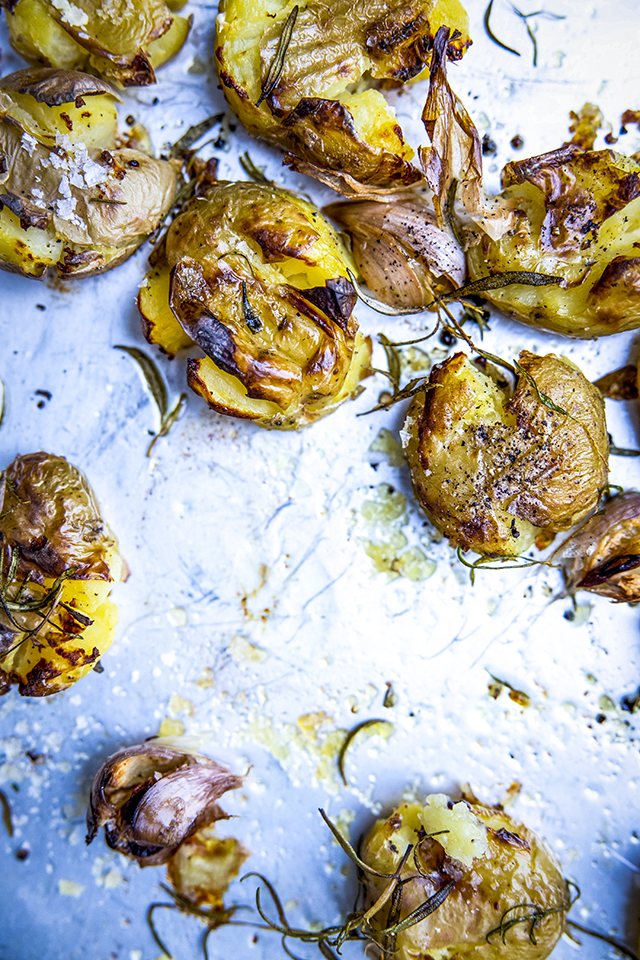 I've been making a variation of oven roasted garlic & rosemary smashed potatoes since the first apartment I moved into with Sofie. They are a result of a dropped pot of just boiled spuds that required a makeover, I'm not pointing any fingers but let's just say that over the years they have lovingly become known as "Sofie's Smashed Potatoes". It's a brilliant method that takes parboiled potatoes and turns them crispy on the edges and golden all over- doused in garlic and rosemary butter, it's the stuff of spud shaped dreams.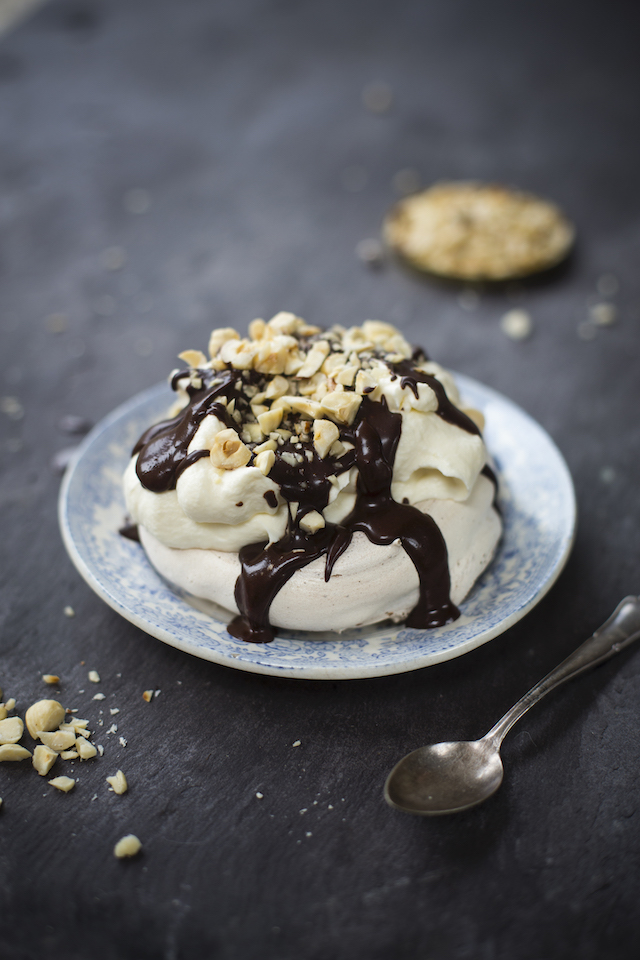 Booze and chocolate for Valentine's day are a must and you will get a fix of both in my recipe for chewy coffee scented pavlova style meringue nests, dolloped with whipped cream drunk on Irish whiskey and slathered in a simple to make cheats chocolate sauce.
That's the food sorted so all that's left is to light some candles, stick on a bit of Sinatra and channel a little retro romance this Valentine's day night.
Follow these links for the recipes in the photos:
Mocha Meringues with Whiskey Cream & Chocolate Sauce
Pan Fried Rib Eye with Blue Cheese Butter & Greens
Oven Roasted Garlic & Rosemary Smashed Potatoes
Share