Eggs Glorious Eggs
October 04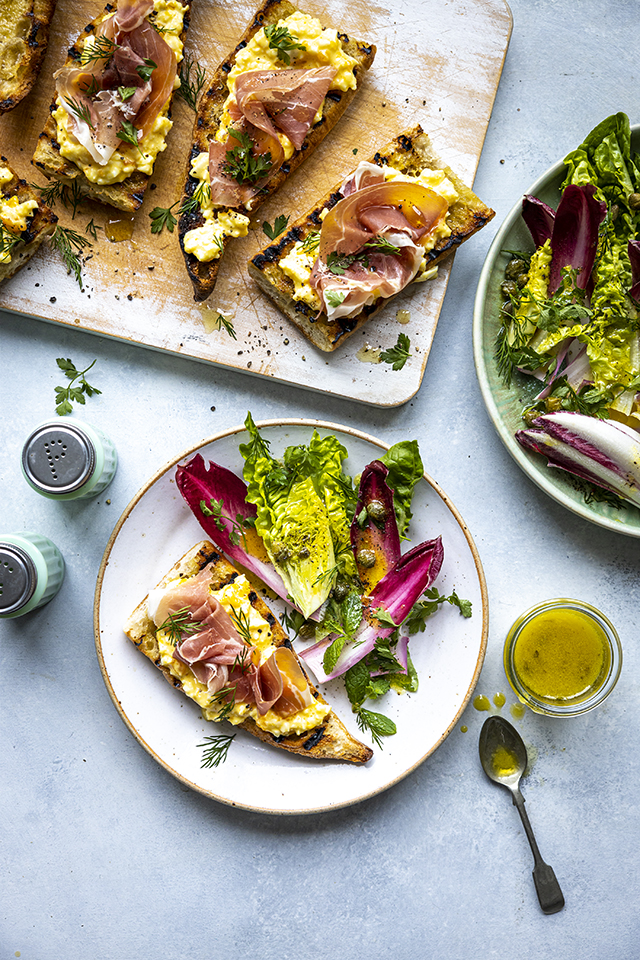 One of my favourite things about travelling through Ireland is stumbling across those little honesty boxes selling eggs. As a city slicker, the novelty of using fresh eggs is not lost on me and my wife and kids groan as I swerve to mount the curb whenever I see one. It's a humble ingredient but when you get the best quality it makes all the difference to the simple dishes you can create with them as the base. Homemade mayonnaise, eggs benedict with hollandaise, or simply soft boiled, there is something wonderfully evocative about the colour a fresh egg yolk can inject to any of these classics. This week I serve eggs, three ways.
Brunch was big while we lived in Los Angeles and nobody did it better than my friend Valerie Gordon who ran Valerie in Echo Park with her husband Stan. A gorgeous little cafe, bakery, deli which made dainty treats and breakfast plates to beat the band. These egg Salad Tartines with Prosciutto & Picked Herbs certainly take their inspiration from there – I've used Japanese Kewpie mayonnaise here, which lends a slightly sweeter tang to the egg salad than standard mayonnaise. If you can't get hold of Kewpie mayonnaise, use the same amount of standard mayonnaise and add a small pinch of sugar to sweeten slightly – stir together and use as per the recipe.
Get the recipe here.
On the Los Angeles theme of eggs, another favourite spot of ours was Honey Hi which served a peak hipster crowd but had its roots in really great food. This California Lunch Bowl with Turmeric Poached Egg takes its inspiration from there. The little trick of poaching the eggs in turmeric spiked water, leaves you with sunshine yellow exteriors ideal for bright eating. Although grain bowls have had a bit of a bad rap for being a bit faddy, they are quick to make and tasty too. I treat this type of lunch or dinner as an opportunity for a fridge clear-out and anything goes here – roast vegetables, leftover meat, pickled cucumber – basically whatever takes your fancy. Ready-cooked tins of lentils are a great time-saving ingredient.
Get the recipe here.
For something a little more classic, look to the Poached Egg & Frisee Salad – Otherwise known as Salade Lyonnaise, this warm salad looks fabulous as well as being really easy to make. Look for blocks of pancetta you can cut yourself, the ones you find in packets are almost always of lesser quality and for a salad like this, you really want the best you can get your hands on. 
Get the recipe here.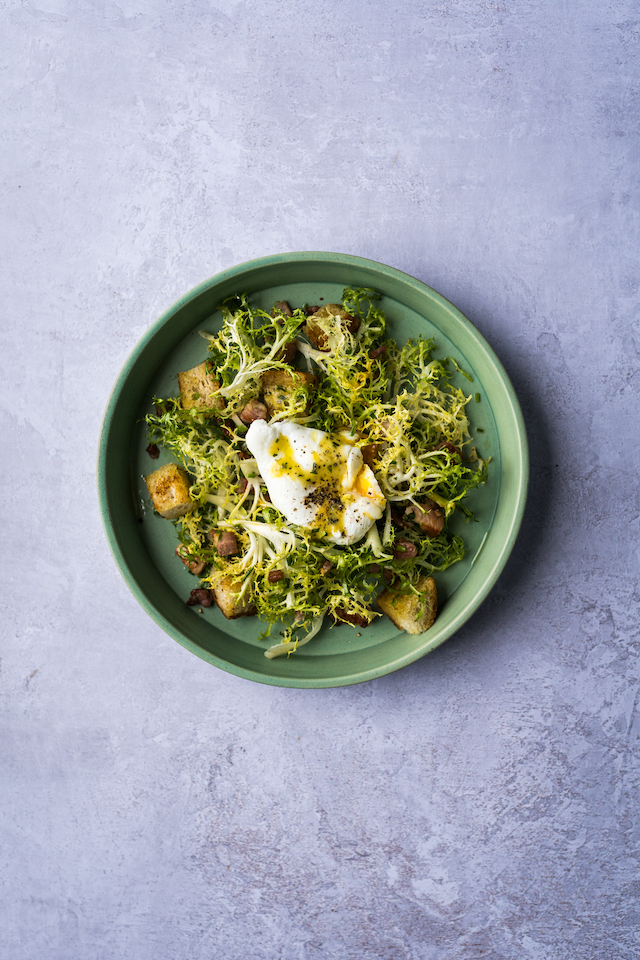 Share