Preparing For Autumn Nesting
September 08
I'm still in that sweet spot where I'm not quite ready to say goodbye to the long days of Summer and everything around us seems to carry a touch of nostalgia. The boys are growing up and our youngest starts school next year, while I'm ready to say goodbye to the nappies and tantrums of toddlerdom, it brings mixed emotions and a little sadness to see them find their independence. It's been a lovely summer and we always make one special day to mark the end of it. My parents did this too and it's a lovely way to mark the start of a new chapter. This week I have 3 recipes that might make the transition to Autumn a little easier.
This year, I took a leap into gardening as we've moved into our first house, and my little vegetable patch surprised me with its bounty. I got some help from the guys at QuickCrop.ie who provided the beds and some plants that give things a kick start. Among the treasures I proudly harvested for the first time was sweetcorn. Despite leaving it all to go wild for a few weeks in the summer- It felt like it was a bit of victory pulling the cobs and turning them into the Basil & Sweetcorn Soup here.
Get the recipe here.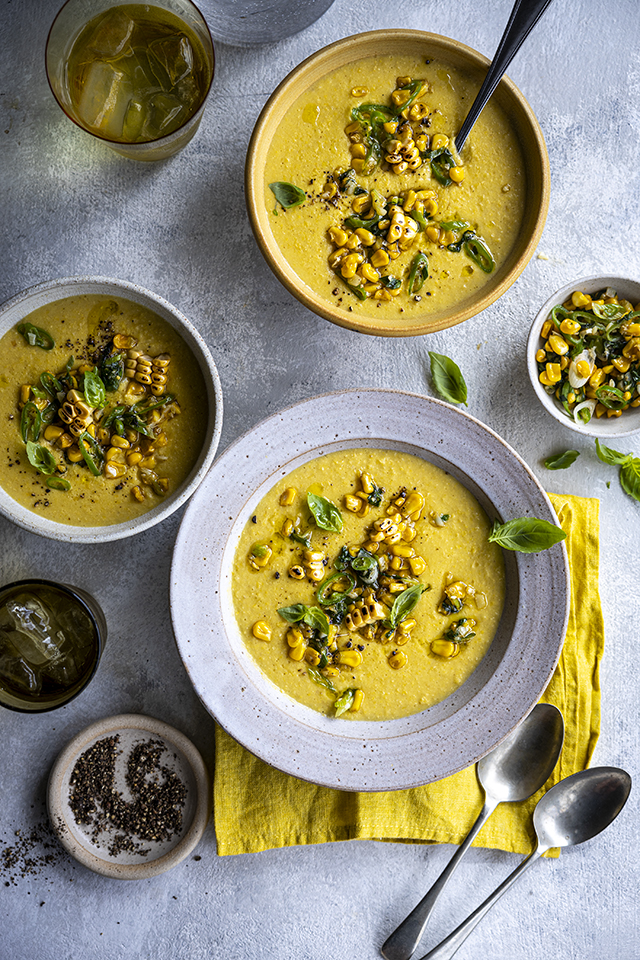 Our new home has quickly turned into the gathering spot for friends and family, and for our end of Summer feast I cooked Dublin Bay Prawn boil. Now, don't be fooled – this isn't some fancy affair. It's newspaper laid on the table and prawns being cracked and sucked with a seriously good bagna cauda, sweet corn and potatoes- my favourite way to eat!
Get the recipe here.
The sweet treat came in the form of my fig & almond cake which always reminds me of this time of year and of my time in Los Angeles, where I had a fig tree in the front garden. Every late summer, that tree would shower us with figs – more than we could handle, really. But we turned them into jams, compote and this very easy to make cake. Now that we are settled in our new house, I've planted a fig tree with high hopes that someday it'll give me the same delicious memories, home grown.
Get the recipe here.
So, as the sunsets get a little more colorful and the evenings a bit cooler, let's gather around these dishes, share some stories, and enjoy the simple pleasures that this time of year brings.
Share