Savouring the Abundance of Mid-Summer
August 10
While the warm, lazy days of midsummer may have evaded us, it's still the perfect time to gather friends and family to celebrate the best of this season's ingredients. Summer brings plenty of fresh, colourful vegetables to our table, and this week I have three recipes that showcase the best of what this season has to offer. 
Transport yourself to the sun-kissed hills of Italy with Bagna Cauda, a flavorful dip that celebrates the summer's raw, colourful vegetables. This dish traces its origins to the Piedmont region of Italy, where it has been enjoyed for centuries.
In its simplest form, it involves gently warming a blend of olive oil, butter, garlic, and anchovies until the flavours meld to create a heavenly dip. There are other variations that include cream or milk, but this version is its most pure.
Select an assortment of fresh, interestingly textured vegetables to dip into the warm Bagna Cauda. Think crisp radishes, tender colourful carrots, peppers, wedges of endive and fennel. The platter of colourful crudites makes for a perfect aperitif before any summer supper.
Click here for the recipe.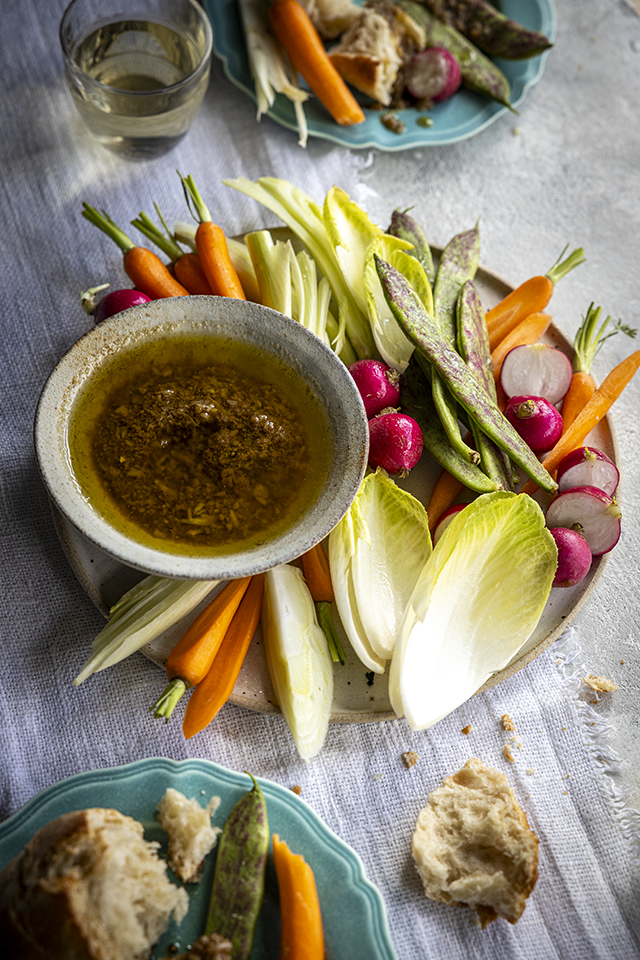 This year we have grown plenty of peas and I've put them to good use in simple salads with mint and feta, risotto with plenty of finely grated Pecorino and in this dish of delicate Gnocchi with Peas & Buffalo Mozzarella. The recipe embraces the lushness of garden-fresh peas and the creaminess of Irish-made mozzarella – you can use burrata here also.
Whether you decide to save time with store-bought gnocchi or take on the rewarding challenge of making your own, the secret to light gnocchi lies in using potatoes that don't retain much water. Opt for starchy potatoes and bake them whole with the skin on to minimise water absorption. A simple summer supper that can easily be served to friends and family.
Get the recipe here..
When it comes to summer desserts, there's nothing quite as nostalgic and quintessentially American as an Ice Cream Cake. However, today's version is elevated, making the most of the season's stone fruits.
An ice cream cake typically layers ice cream or gelato with cake or cookie crumbs. This version takes the concept but ups the ante with a blend of rich vanilla ice cream intertwined with the flavours of roasted stone fruits. Roasting the fruits intensifies their sweetness and creates a lovely contrast to the creaminess of the ice cream.
Lemon verbena, with its citrusy and floral notes, complements the stone fruits perfectly. Consider growing this herb in your garden, as it can be easily dried or infused into syrups for use in desserts like this ice cream cake.
Click here for the recipe..
These recipes embrace the spirit of summer and the joy of sharing good food with loved ones, even if you don't get the weather!
Share