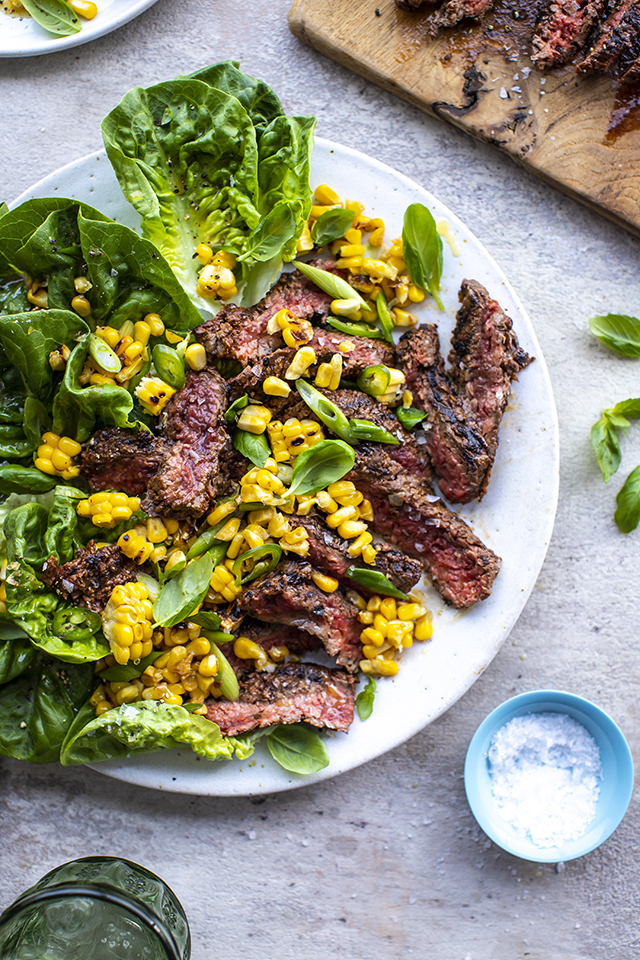 Simple summer suppers are key to savouring the most of the season. Whether it's a quick chicken dish cooked in the one frying pan, a speedy baked fish dinner or a tumble of vegetables roasted until tender with freshly cooked pasta tossed through, one pan cooking was made for the summer months. It's a method I've thoroughly embraced as a father of two hungry little boys. Little effort and maximum results. Of course as any parent will attest, best made plans often end up on the floor, yet we must push forth and persist!
Click on the recipe title or image to get the full recipe.
Crunchy Rice Noodles with Greens Salad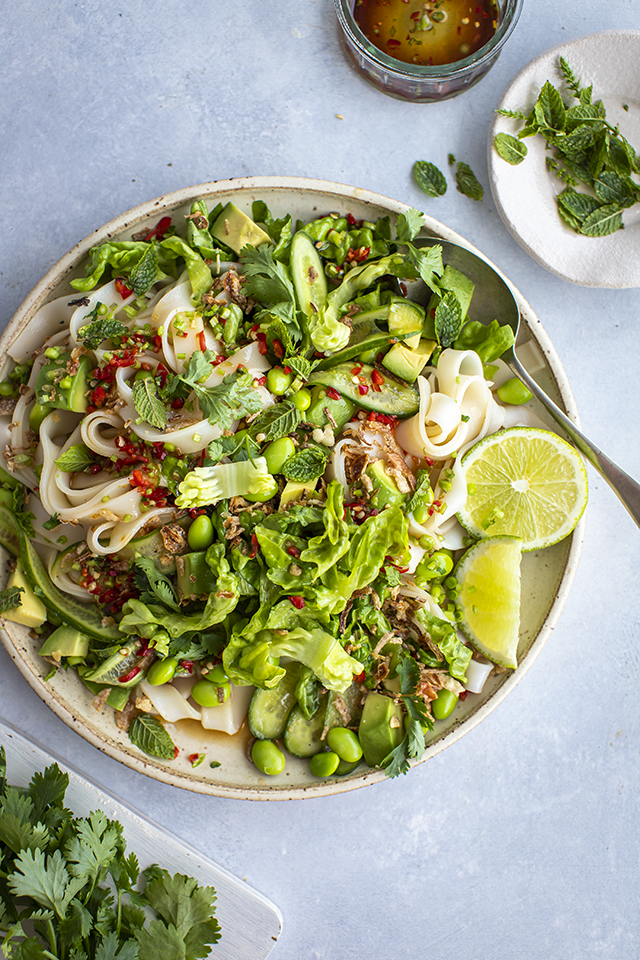 For something a little light but with all the sweet, spicy & salty kicks, things I love about Vietnamese food, a salad which makes a great lunchbox filler or a light weeknight supper. Traditional, it is not, but this recipe borrows from some Asian pantry staples to create a slippery noodle dish that is veggie packed and incredibly satisfying. The crunch of both peanuts and crispy shallots are essential here to make the whole dish feel more-ish.
Sweet Chilli Chicken with Nam Pla Sugar Snap Pea Salad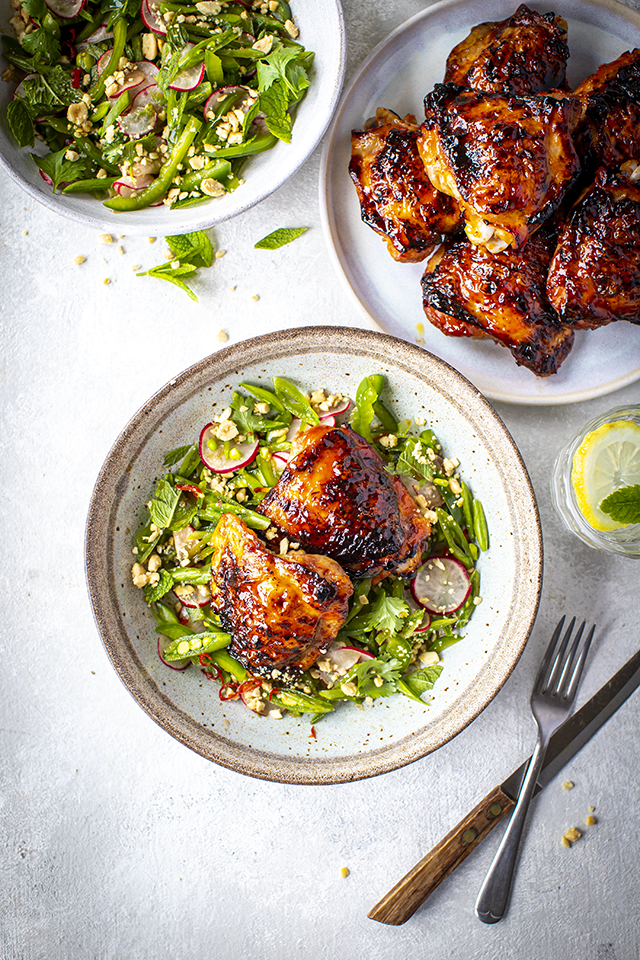 Tender roasted chicken with a sweet and savoury coating and a fresh simple salad are the reasons why this dish is a firm favourite in my house at the moment! Feel free to add rice to this dish if you are looking for something a bit more filling.
Steak Platter with Basil & Sweetcorn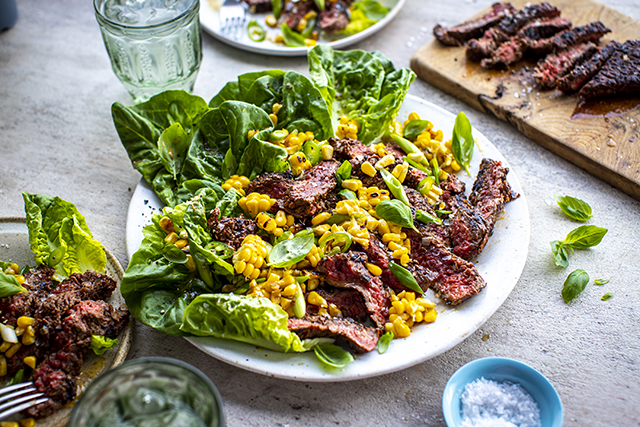 I cook the bavette steak here on a griddle pan, but this cut of beef is ideal for a BBQ, just cooked for a few minutes on both sides, leaving it charred on the outside but juicy and pink on the inside. Serve this up platter platter style alongside some other great sides and you'll have yourself a feast!
Zesty Crab & Courgette Linguine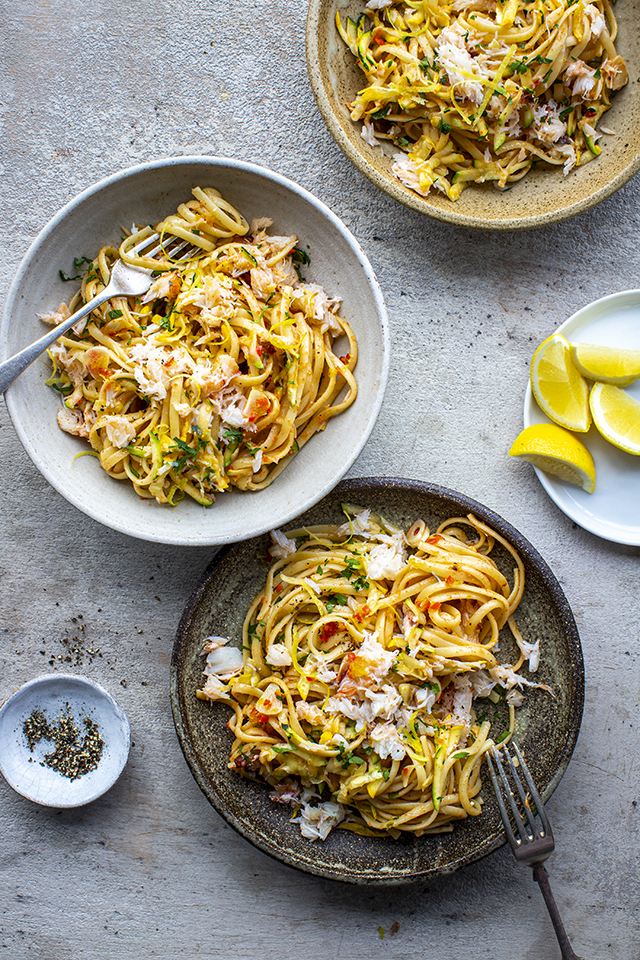 A fresh tasty 15 minute seafood pasta that is spectacular eaten al fresco with a glass of chilled wine. Use a julienne peeler to make easy work of the courgette and toss through some rocket leaves if you fancy some additional peppery green bite.
Steak with Crying Tiger Sauce and Sesame Baby Gem Salad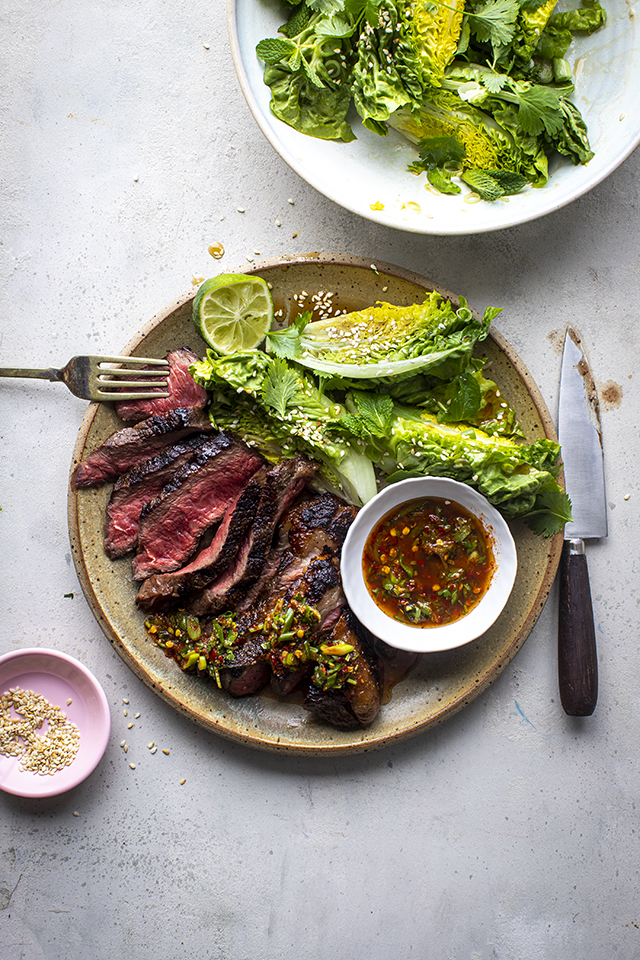 Grilled steak, spiky thai inspired dipping sauce and a fresh crunchy salad, a simple but really impressive supper that takes minutes to prepare. You can make your own toasted rice powder which is as straightforward as it sounds. Simply roast a handful of sticky or other short grain rice or toast in a pan and then grind to a powder. It can also be left out if needed.
Honey, Fennel & Salami One Pan Pizza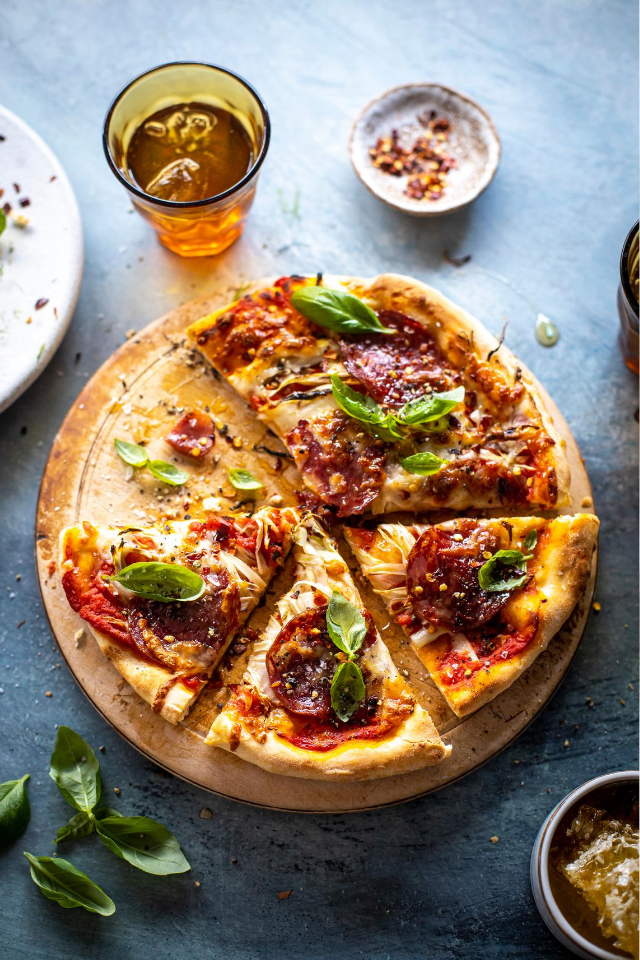 For best results use a heavy based pan with an oven proof handle. Master the dough once and you can come back time and time again, changing up the toppings as you see fit.
Click on the recipe title or image to get the full recipe.
Share