Winter Warmers
January 20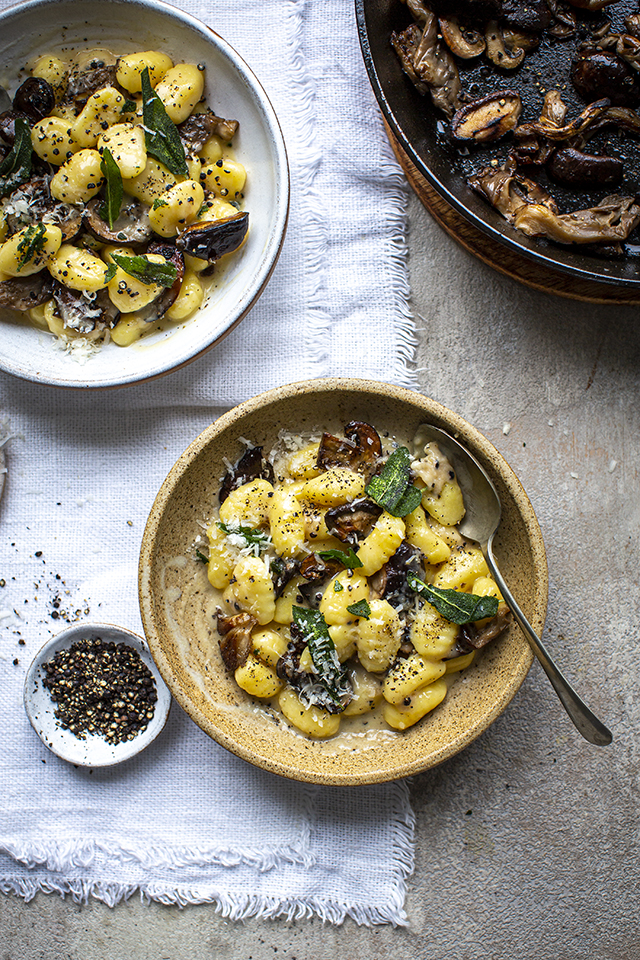 This is always a time of year I require distraction in the kitchen, the fun and festivities of Christmas are well behind us and the real Irish winter begins. Perhaps it's why we all turn to fad diets and air fryers right around now, it's necessary to keep our minds occupied as we bare down the barrel of a cold couple of months. Despite the cliches, these crisp new year January days are an ideal time to set new habits and shift the focus towards eating, perhaps just a little more consciously. You don't need to crack out the juicer, smoothie maker and start boiling pulses, my version of lighter Winter eating certainly does not come from a place of lacking. I want to share recipes that are vegetable forward, don't skimp on fiery flavour and instead should be a welcome colourful path forward into a new year of eating. Click on the recipe title or image to get the full recipe.
One Pan Chicken & Mushroom Pie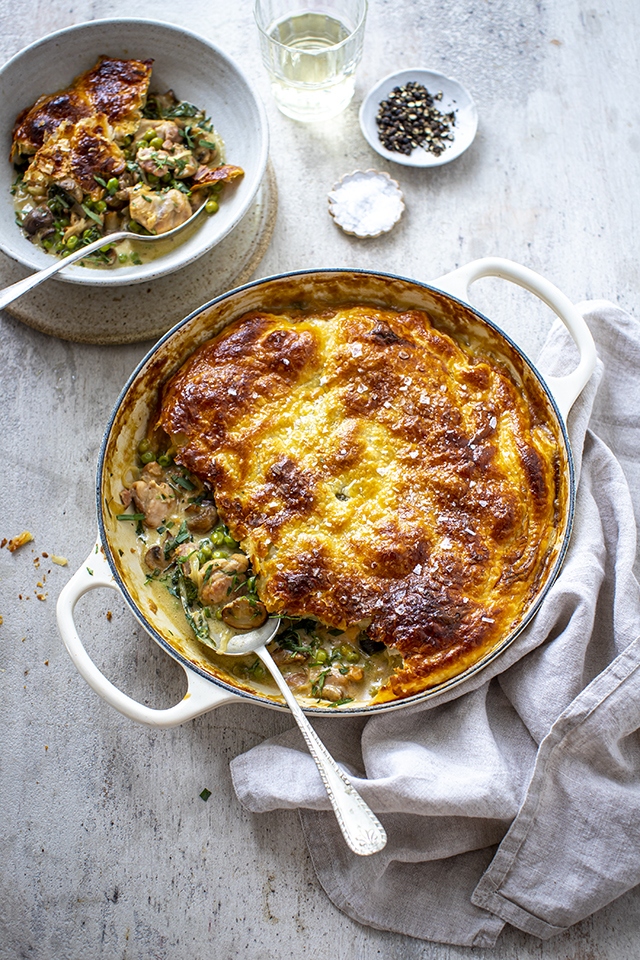 If you want comfort food on a plate you will find it in this pie that instantly evokes all the cosiness of crisp Autumn evenings. It's a simple creamy chicken & mushroom filling that can be levelled up with the fanciest looking mushrooms you can find and even a splash of marsala for some depth. As it's a wonderful one to serve to kids, I add spinach and peas and whatever other veggies I have in the fridge chopped finely alongside to up the nutritional value.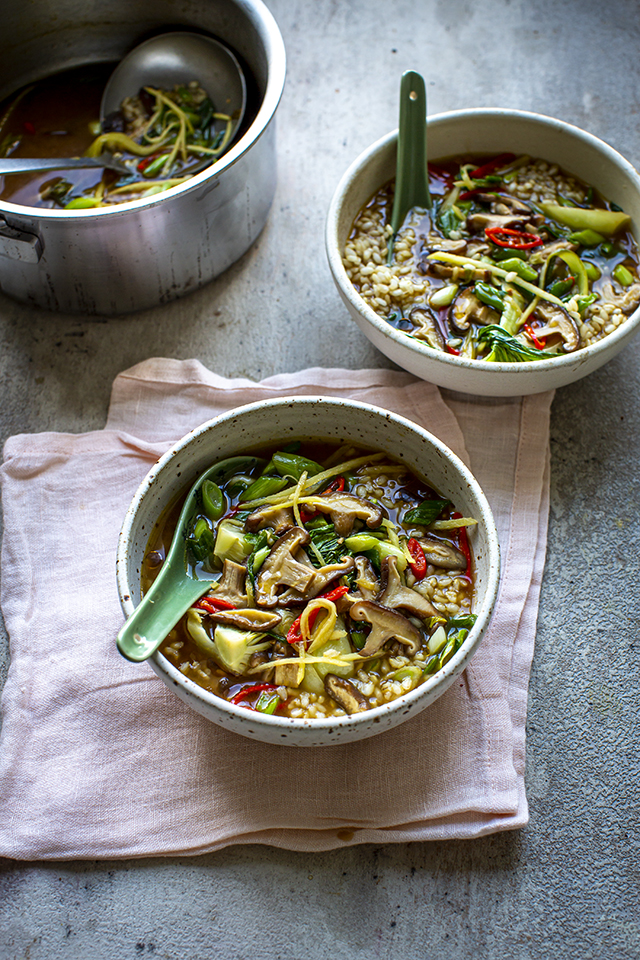 There is something instantly restorative about a broth like this. Even the worst head cold would find it hard to withstand its soothing elements. Miso is a fermented paste most commonly made from soybeans and adds an essential salty umami taste to this soup.
Caramelised Onion & Mushroom Cheese Toastie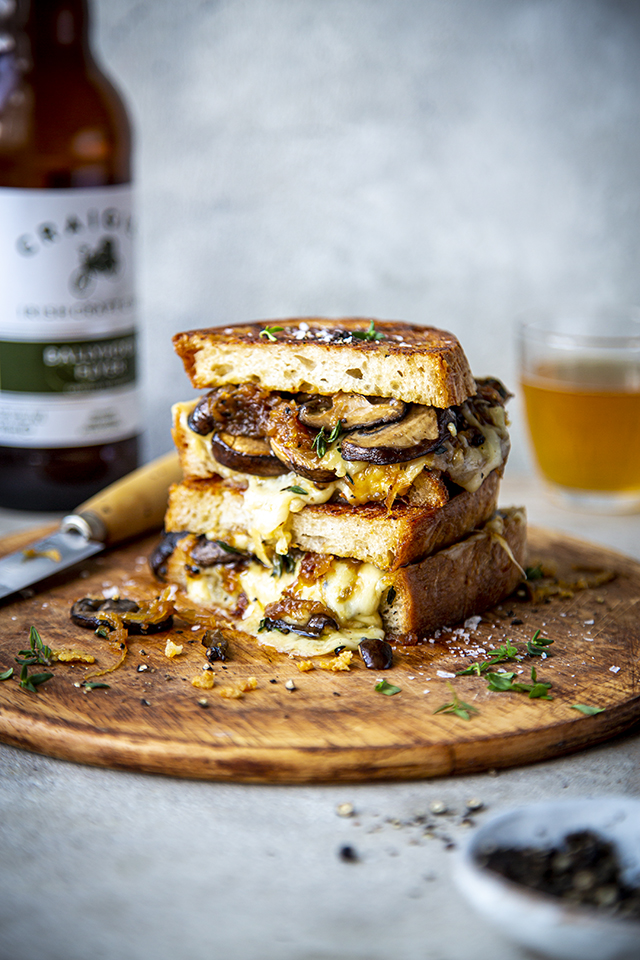 For a little indulgence and comfort, this fancy cheese toastie is so ridiculously good I would nearly serve it for a light supper with some sharply dressed salad leaves and call it a day.
Cacio E Pepe Gnocchi with Mushrooms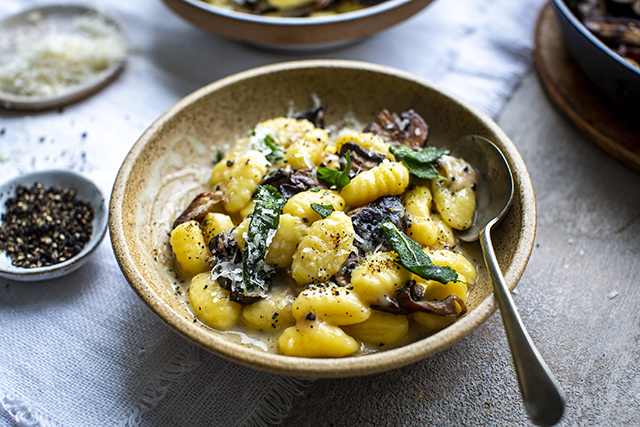 When the supermarket shelves lay empty during the worst of our lockdowns, I recall spotting packs of gnocchi lying lonely in the pasta aisles, as the more popular shapes of spaghetti and penne were snapped up. I was surprised, as it's an ingredient I always pick up and like to have to hand for speedy little comfort food suppers.
Sticky Pomegranate Chicken with Red Onion & Coriander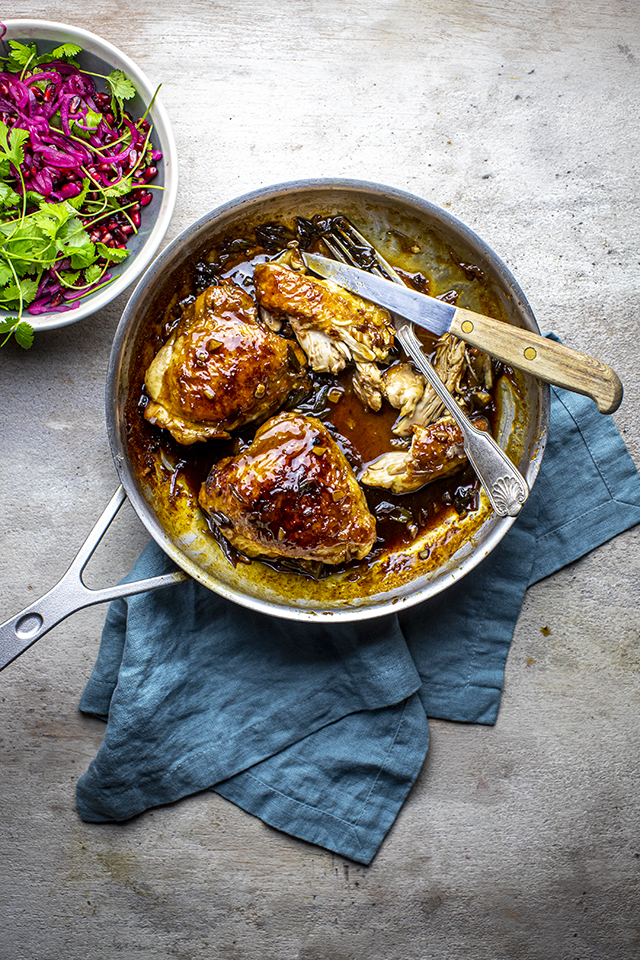 A recipe that can be easily cooked on the hob top but also works particularly well once a little smoke and flame hits the chicken skin. I would suggest you grill the chicken thighs, seasoned over flame until all but cooked and then finish them in the pan of sticky rub red sauce that makes them fairly addictive. Served up with red onion, coriander and ruby jewels of pomegranate, you will be left with a dish sure to brighten up even the darkest January day.
Homemade Dumplings with Dipping Sauce & Garlic Greens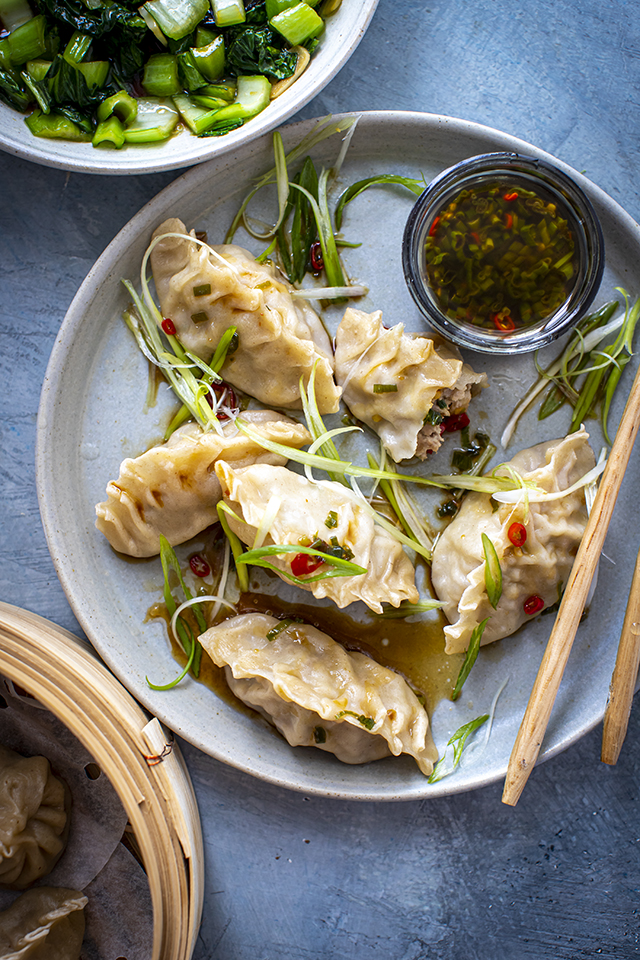 Dumplings make for a great weekend supper and are easy to make with the whole family.
Roast Pork with Plum, Soy & Star Anise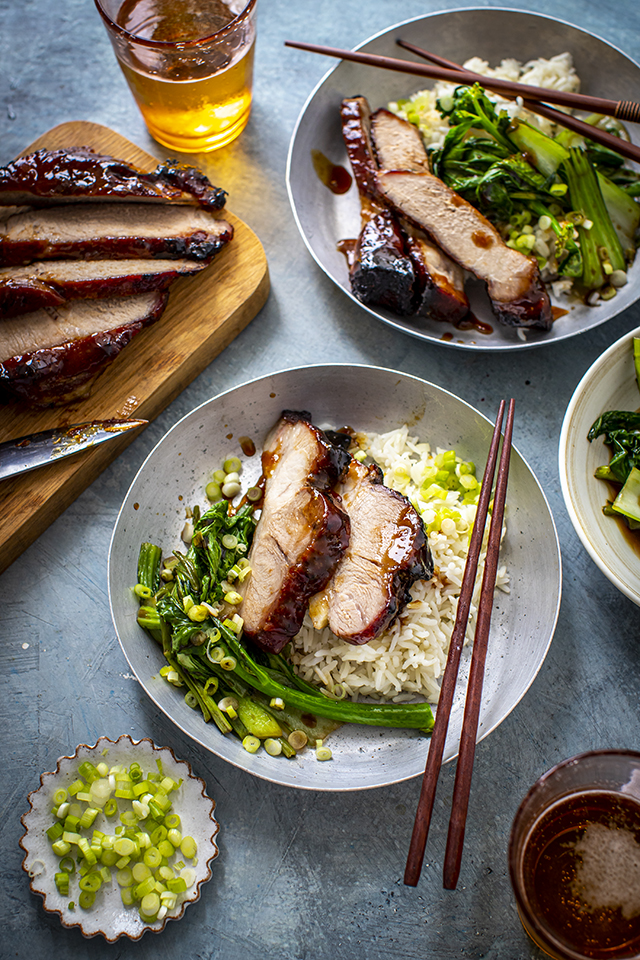 This feast is an ideal swap for Sunday's roast chicken if you fancy switching it up!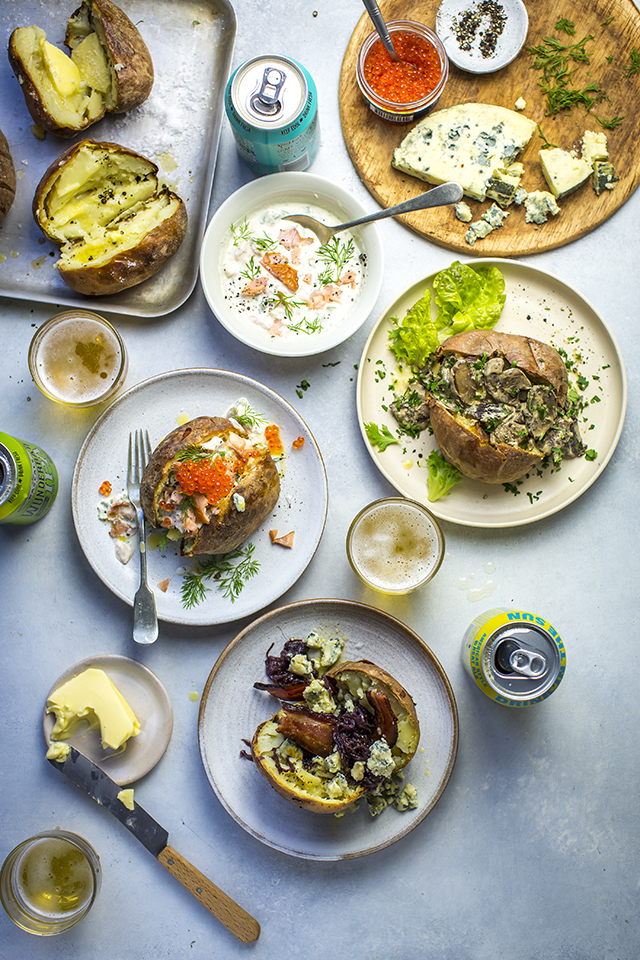 I always find there's something wonderfully nostalgic about a baked potato. My mum used to make them to serve alongside beef bourguignon or stroganoff as a steaming hot side, burst open to reveal a fluffy interior begging for salty Irish butter. I have found a love for them again recently and they are perfect comfort food with plenty of filling options to choose from. Serve them as they are or with some winter leaves with a shimmer of sharp mustardy dressing.
Apple Galette with Cardamom Whipped Cream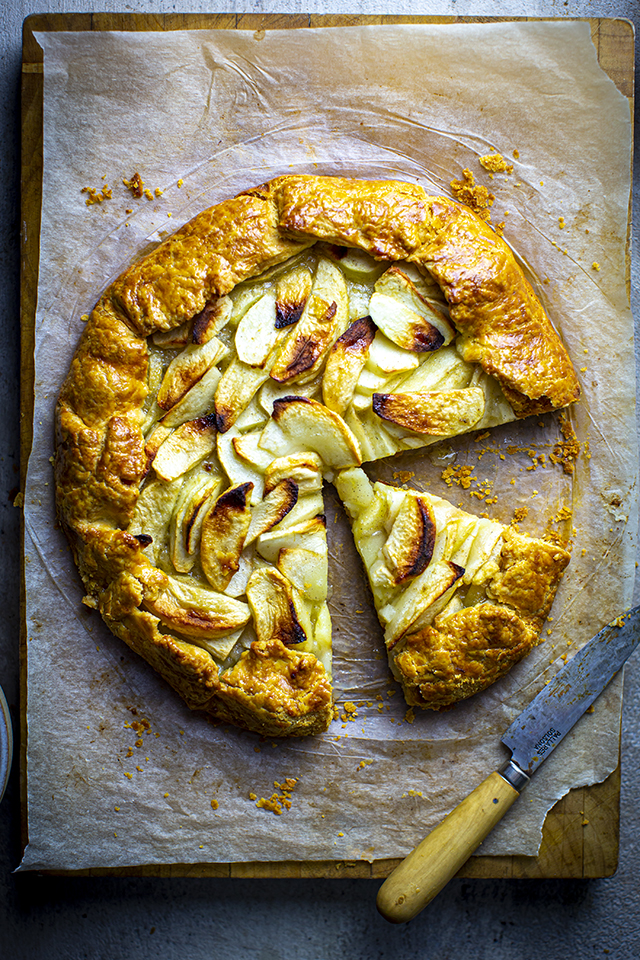 Served with whipped cardamom cream and buttery rough puff pastry, a slice of this galette is what I dream of as the dark days of Winter roll in.
Confit Chicken with 20 Garlic Cloves, Rosemary & Thyme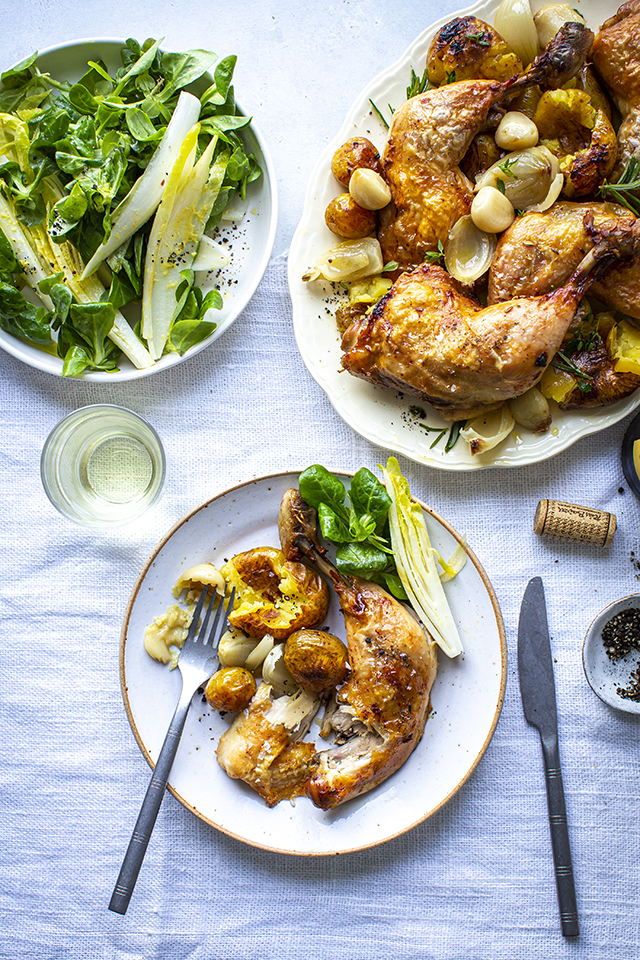 Chicken legs are coddled in a low oven with olive oil infused with aromatics like sage, fennel seeds and lemon zest alongside baby potatoes. It leaves you with fairly irresistible chicken and a stellar oil that is ideal to use on roast potatoes or frying off vegetable fritters in a pan.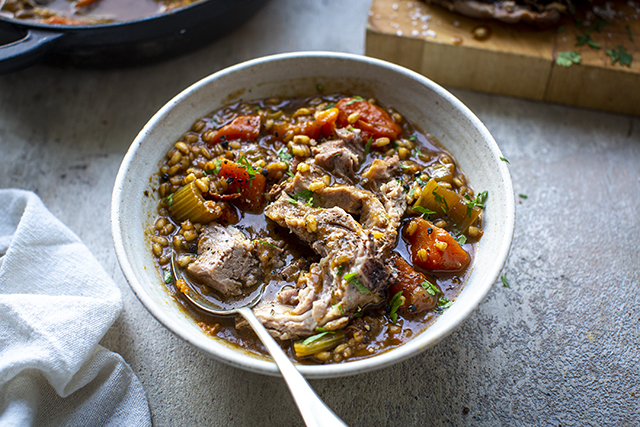 This is a hearty stew that will blip and bubble it's way to tenderness, filling the kitchen with warmth and one that requires no more than a stack of bowls and perhaps some good crusty bread to mop up the juices to serve.
Smoked Fish, Cheese & Potato Bake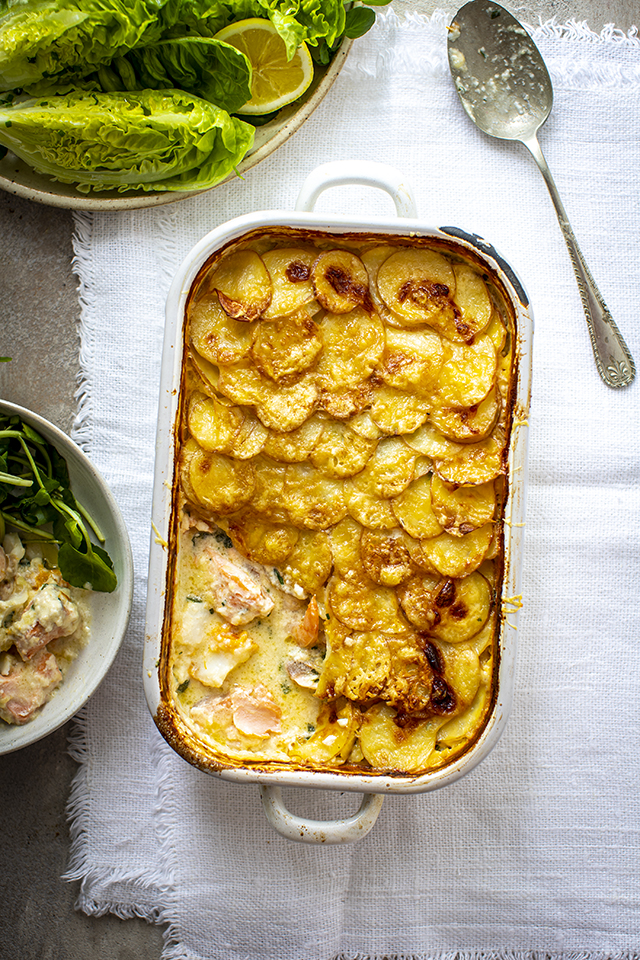 A slightly fancier finish to a traditional fish pie, this version has a scalloped potato topping above a creamy, cheesy smoked fish filling that is particularly delicious. I often think of fish pie as a weeknight dinner but with a dish like this, there's no reason you couldn't serve this as your Sunday centerpiece. Maybe add a few scallops or other shellfish for extra indulgence but I know our crew would happily devour this whenever we choose to serve.
Click on the recipe title or image to get the full recipe.
Share